Sam Chen follows the fast track towards success in the art community
With paint on her hands and a steadfast determination in her heart, Flint Hill senior Sam Chen is already creating a name for herself in the art world. Exhibiting her work throughout the hallways of the Upper School and in the art district of Chelsea, New York, Chen exudes a passion and dedication that will propel her to the top of her field.
Beginning in elementary school, Chen developed an interest in art, though it was not until she arrived at Flint Hill that she became convinced of her potential. Drawing upon the inspiration of a Van Gogh mark-making assignment in Upper School art teacher's Cianne Fragione's Art I class, Chen decided to commit herself to her work in order to further develop her abilities.
"I still remember that day freshman year in the middle of winter when Fragione told us to create an ink drawing, and after that I realized I wanted to go to art school," Chen said.
As a self-proclaimed history buff, Chen's interest in various time periods reflects in her artwork, which includes sculptures, paintings, and drawings. Excelling in styles ranging from Renaissance and post-modern to realism, Chen embraces the work of other artists before her while creating original pieces.
"I try to reference other people in my art but make it unique," said Chen. "I really enjoy the work of Goya and Bacon, two of my biggest inspirations and favorite artists."
Despite unwavering commitment and a wealth of knowledge about art history, success requires time and practice, an idea Chen wholeheartedly embraces.
"Art, to me, is a way of life," said Chen. "Whenever I have the time, I want to work on my pieces. If you love what you do, you want to dedicate yourself to it."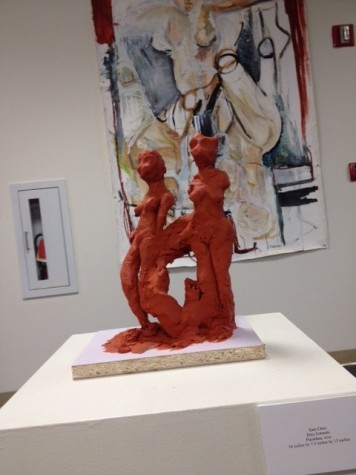 As a senior in Portfolio Art, an advanced class whose work is currently displayed throughout the Upper School, Chen spends more than ten hours per week in the studio, in addition to class time. However, Chen's willingness to devote time and effort towards her work is paying off outside the classroom as well.
"[Chen] is showing her work in a gallery in New York right now and has exhibited in [three] different galleries over the past year," said Fragione, who has worked with Chen for the past four years. "She has all the ingredients to go far."
Colleges have taken notice of Chen's talents and her wish to make a mark on the art world. After attending a pre-college program two years ago, Chen set her heart on the Maryland Institute College of Art, where she plans to major in interdisciplinary sculpture with a concentration in drawing and painting.
"[Chen's] ability to create powerful works effectively with different mediums will be a great advantage for her in college and is something I've admired over the past few years," said junior Danielle Wallace, a fellow artist and friend of Chen's.
As far as her career aspirations, Chen recognizes the substantial amount of occupations that exist within the art world. Though her current goal is to become an exhibiting artist, someone who displays original pieces in galleries to make a profit, she has not eliminated the option of teaching art to others in a school or university setting later on.
"I definitely want people to be able to view my art in galleries and to appreciate it so that I can make a profit off of my own work, but I also love teaching and talking to other people about art," said Chen.
For Chen, art not only provides personal fulfillment and a sense of achievement, but also serves to benefit the community as a whole. As a participant in St. Jude's "30 Under 30" fundraising program for cancer, Chen is one of 30 artists who donate pieces for auction, with all proceeds benefiting cancer research.
"It was great to be selected for this program out of a large number of people," said Chen. "It was a unique experience to be a part of."
As Chen's accomplishments in the art community reach new heights, she is sure to maintain the hard work and dedication that has already led her much of the way.