Fall play begins production with a bang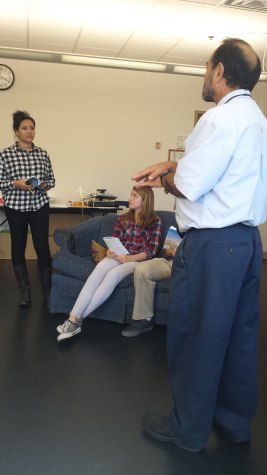 The Flint Hill Upper School is kicking off the year with a playful twist on a well know
n classic. Based on Shakespeare's Midsummer Night's Dream, Midsummer/Jersey is a funny parody whose performance will take place on November 14 and 15, at 7:00 p.m. on the East Campus.
This year's cast is a blend of excited actors from freshmen to seniors.
Freshman Tara Monjazeb said, "I think it's pretty sick (in a good way, obviously) that [the play] is open to everybody, and [Carlo Grossman, (director)] doesn't base the parts on age, [but more so] on talent because there are seniors in it; there are sophomores and I'm a freshman. So, I think that's pretty awesome."
It is evident that the director shares this view with his actors. Grossman, having a similar take on the casting this year, said, "I'm thrilled so many new people came out, and I have a core group of people who've been acting for a couple years now. It's a wonderful combination, and I'm very excited for this show and for future shows because there's a lot of talent there."
Not only is there talent, but an apparent love of theater throughout the cast as well. The actors already share enthusiasm as they read through the script for the very first time. Everyday at 3:30, there is practice. However, half of the cast will be in Grossman's room by 3:20, excited for rehearsal and ready for the day's helping of jokes and laughter.
This marks junior Janie Braunfeld's third year participating in Flint Hill productions as the play's stage manager.
"I used to act, so, I've always loved theater," she said. "I love performance. But for me stage managing, though I'm such an unorganized person, it's like organized chaos. And it's just really fun to be apart of; you meet so many interesting people, and it's such a great experience. Honestly, I've met some of my lifelong friends through productions, and there are just a lot of things to be gained from it."
Though Midsummer/Jersey is still in its early stages of production, it is easy to see the potential for great success by the time November comes around. There is a certain chemistry between the cast members. Many take on multiple roles, but everyone gives 100 percent effort to their duties with a sense of merriment and eagerness.
When asked if she had any message for The View readers, Braunfeld said, "I guess I would encourage them to come and see the show, not just because the show is such a phenomenal show itself, but [also] because we work really hard on them and the people in the cast are phenomenal."
Leave a Comment