With addition of new administrative position, Huskies strive for diversity
As Huskies return for an exciting new year, Mia Burton, Flint Hill's new Director of Diversity and Inclusion, is here to promote acceptance. Burton had already been an avid supporter of our diverse student body even before her arrival to Flint Hill's Upper School last year, when she served as Dean of Student Affairs.
"My job is essentially to promote inclusion of all at Flint Hill on several levels such as race, gender, socioeconomic status, sexual orientation, and learning ability," said Burton. "I think we should be taking advantage of what our students have to offer, and promoting civility and dignity of other students' cultures, views, and lifestyles is important to the academic environment."
Burton already has experience in raising awareness for diversity after last year's discussions on the impact of microaggressions. Seniors Misha Wooden and Caira Blackwell co-coordinated the F-Day event.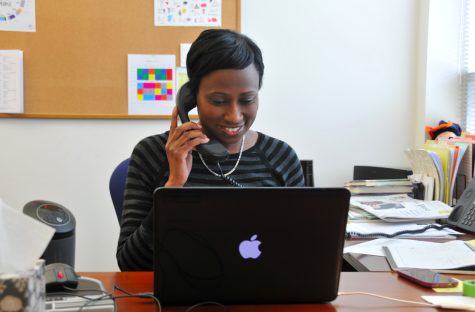 "It's an important part of Flint Hill," said Blackwell, "and it's important for other students to understand that there are kids with different views, cultures, and lifestyles and they deserve respect just like everyone else."
Flint Hill is especially trying to encourage acceptance outside of race, something that Burton felt was the misguided focus of diversity.
"When many people think of diversity, they immediately picture race," said Burton.  "What we're trying to do is make it much more than race, because that's what diversity is. Our mission statement for diversity also promotes acceptance of religion, gender, sexuality, and many others."
Whether she is organizing assemblies, guest speakers, or other cultural events, Burton will be a driving force not only in raising awareness about diversity, but celebrating it.