Storytellers and animators begin their year in Portfolio Art
Six ambitious seniors have embarked on the journey of Flint Hill's Portfolio Art course, with the objective of creating a compilation of their best work. This is an essential step of the art school college admission process, as well as the beginning of a potential career.
Danielle Wallace, Laura Statman, Sydney Stiffler, Madeleine Roodberg, Jack McCaffrey, and [name removed at request of alum] all share a love for the more interactive facet of the artistic world, whether telling stories through narrative landscapes and photography or animating entirely new worlds through video games and film.
This class, every student explained, is not for the idle or disinterested, but rather only for those truly passionate about the subject and willing to invest time into it – 10 hours outside of class per week, specifically.
"It's a lot of time, and a lot of work," said Stiffler. "It takes [staying] after school every day, all of my free periods, break, lunch; it's pretty much constant work."
During these rigorous hours, students work toward completing the required 20 cohesive pieces of work that will be displayed in a show at the close of the year.
"In a way it really is an independent study class," said Statman. "There are expectations, but it's on you to rise to those expectations, exceed them, and produce something worthwhile. It's a lot of pressure, but I also think it's satisfying and incredibly important if you want to get into the industry, because this is how it really is."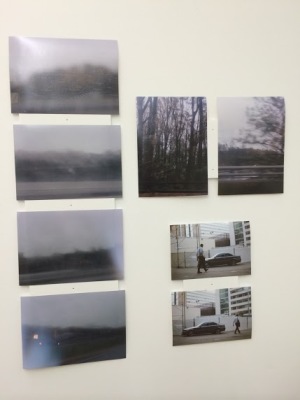 Wallace also looks forward to the satisfaction of seeing her pieces on display after all the work is done.
"You will get that feeling of accomplishment knowing that you've completed the year, that this is all your work," she said. "The joy of being able to see it formally displayed, and to discuss it, because it's what you're passionate about – and you've been doing it all year, so you know a lot about it. The process may be hard, but ultimately it's going to be worthwhile."
Before they reach that point of celebration, however, students must actually work through the arduous process. According to the students, those in this curriculum must have a true love for what they do.
"All my passion really goes into this class," said [name removed at request of alum]. "When I come in here, I can put all of [myself] into one passion and work on something that I really appreciate. I'm definitely looking forward to completing this portfolio that I've been envisioning for quite a while, and having fun with it while I do it."
[name removed at request of alum] hopes to pursue 3D modeling and rendering for video game development as a career.
"I'm not really directed towards fine art, or something that's going to hang on a wall," he said. "I'm more oriented towards something I can market, something I can push through video games, so that I'm working together in a collaborative effort to make something that people can enjoy."
Stiffler also hopes to work with video games, specifically high-realism computer animation, and views this year as a time to continue cultivating her passion for art.
"I've always loved art," she said. "I came here because of the really good art program, and this year I'm most looking forward to just working. I have my own studio, my own little space, and I really love what I do."
Highlighting the predominant motive to take the course, Wallace emphasized the importance of pursuing and committing yourself to your interests in order to properly prepare yourself for the future.
"It definitely takes commitment," said Wallace. "If you start with a passion and don't pursue it, then that just kind of falls by the wayside, and gets left as just a fancy dream. Commitment manifests itself in even just taking these classes, and going through the motions of formal teaching, but you also have to remain self-taught, finding and following your own fascination in something."
While the requirements might seem daunting to some, Roodberg finds them motivating, especially while coupled with the supportive atmosphere created by a small group of people who share a common passion.
"It's a support system. I have all my friends in this class, who are unadulterated in their opinions, so they'll tell me what they think. It's really great to be surrounded by people who are passionate about art, and the atmosphere in here definitely helps me to create my best work. The deadlines and requirements of this class I also find really help to motivate me and get me out the door with a camera, just taking lots and lots of pictures."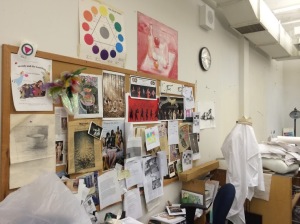 Roodberg started with darkroom photography at a young age, and is taking the class to create a portfolio that will help her on her way to majoring in photography in college.
McCaffrey took a similar path. In third grade, he began shooting his first stop-animation films with the family camera. Now, nine years later, he continues to develop his talents so that he can pursue animation in college, and ultimately make an impact on the artistic world.
"I'm hoping to tell untraditional stories, or to tell normal story arcs in a more untraditional way," said McCaffrey.
Wallace and Statman also feel that they have something fresh to contribute to the art world. Wallace, who hopes to someday work with — or ultimately create — 3D animated films, focuses on the storytelling aspects of art, and this year will create a series of narrative landscapes.
"Sometimes the best stories are the ones that have already been told, but [I'm] retelling [them] in a new fashion," said Wallace. "I am not afraid to…get real with humanity, taking a concept like human suffering – something a lot of people can relate to, but not necessarily something we like thinking about – and bringing it to light. I do it through stories, through narrative panels – a scene that you see, that sticks with you, which tells the whole story in that one picture."
Statman finds her fascination in cartooning, specifically in creating panels for graphic novels in the horror genre.
"I hope I'll be able to offer diverse, complex female characters, as well as incorporate my gravitation towards weird, gory stuff," Statman said. "One thing that really bothers me about modern horror is that there's now so much emphasis on effects and gore – stuff that should be whipped cream on the sundae. There's no longer a lot of emphasis on story, or on really adding these human elements to the story that make you care about it. If I can do my part in bringing that back, that'd be awesome."
Portfolio offers art students the opportunity to develop the passion they share for the subject, and to prepare themselves to make these contributions to the field.
"It is the way I express myself the best, along with writing – art is the thing I turn to when I need to express something," said Wallace. "Taking classes like these helps to develop that skill into something I can enjoy even more."