Christian Martey shines on the field and on the Internet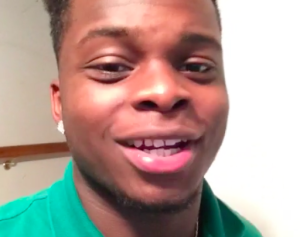 Christian Martey: teenage businessman slash running back. Martey has a unique hobby that he engages in outside of his football career– He makes videos and has become social media famous.
But besides his Internet fame, Martey is also a star Flint Hill School football player and is committed to play for Bryant University next fall.
Martey began playing football in eighth grade. The very next year he went on to have one of his most memorable football experiences.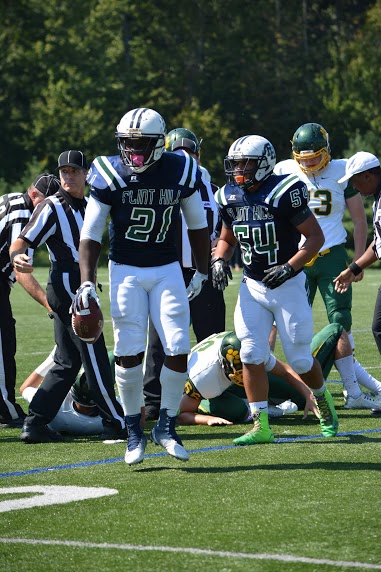 "Freshmen year we were 6-0 and went to play Chantilly high school, which was also 6-0," he said as his eyes lit up. We were losing 21-0 by halftime, and then everyone on the team pretty much gave up, but I said 'no.' I wanted the undefeated season because it meant so much to me.  So we came out, I scored 4 touchdowns, and we won the game."
Thomas Verbanic, Flint Hill School's varsity football coach, feels that Martey exudes leadership qualities. He also emphasizes the fact that Martey is unselfish and helps out his team when he can.
"[Martey] is an excellent player with very good character," said Verbanic. "He has done a great job in the weight room preparing for this season and has started off playing well. He is playing both fullback and tailback on offense and is playing defensive end on defense. By playing all of these positions, it helps our team by giving us more options with personnel and allows others to rest. He has shown good leadership in the offseason and in practice."
Senior Amar Bhatia, his teammate, had kind words to share about him:
"He's a hard worker," said Bhatia. "He goes full speed in every play, practice, and [in] games. He's a leader."
As for social media, Martey receives advertising deals and promotes companies' products in some of his videos. It is a win-win situation for Martey as he gets to make money off of something he enjoys doing. But being Interent famous is not all play. In fact, it is a paying job.
"[The hardest parts] are the advertisements, promos, and the demand for when [people want the videos]," said Martey. There have been weird things people have asked me to promote for them and having to come up with an idea for that fan can be difficult at times.  The weirdest thing was I had to promote an app called 'Cuddler.' It's like you are matched with people locally and you can message them and ask if you want to meet up to cuddle."
Just like any famous person, Martey, too has been recognized in public. As appealing as that may sound to some, fame definitely comes with its downsides. He recalled a particular incident:
"One time I was at the mall with my mom and these group of girls came up to me [saying] 'You're Christian Martey!' [After] they asked for autographs and I took some pictures with them, my mom told me to show her some videos. She saw that she was in some of them and she got mad. I had to delete them."
Even celebrities still have to please their mothers.