Homecoming games yield various results for Flint Hill teams
All the onlookers at Saturday's Homecoming games could understand    the prowess and supreme dominance the Flint Hill varsity football team unleashed upon Maret in a resounding 47-7 victory. On the turf, there were zero combined goals in either soccer game, but that did not stop     the momentum that Flint Hill football possessed against Maret.
The FHS football team proved its authority with a blocked punt on the   first possession, following up with senior Cameron Vaughn's one-yard touchdown rush. After a punt, junior Justin Saleh and the rest of the offense commanded the field towards another rushing touchdown that extended a lead that would never be revoked.
Junior Yigit Guney believed that the fans were the main factor in     creating an unstoppable force during the season's most memorable game.
"Homecoming games are just different," said Guney. "The fans definitely add an extra pressure for us to win."
In total, the offense combined for over 200 rushing yards, including 140 yards, and three touchdowns from Vaughn.
Vaughn has dominated defenses for 963 rushing yards and 12 touchdowns in only seven games.
Albeit the boys soccer team did not receive as much success as the aforementioned football team, sophomore Ethan Lloyd believes that this game is, nonetheless, a school-wide event.
"This game brings not only our sports teams together, but it also brings the school together as a whole, as we get to see all of our friends compete," said Lloyd.
Sophomore Jeremy Timblin believes that during homecoming games, players are more inspired to bring home a victory for their school.
"It is very different from any other game," said Timblin. "You can tell by the atmosphere of the locker room before the game. Everyone is pumped, and excited to get a win for Flint Hill."
Varsity boys soccer coach Chris Brown knew that despite the scoreless game, the team that it would continue to work towards a victory.
"We did not have our best game but as always, we worked hard, gave our best effort, and we could have won the game with a little more cutting edge in front of goal," said Brown. "It was our last regular season game so the understanding amongst the players was already in place, we just have to strive to put it into practice."
The girls soccer team, which also played to a scoreless draw, applied constant force on the Wilson High School goalkeeper, and were only denied a victory by a few sensational saves.
Girls varsity soccer coach Albert Ottati recognized the numerous fans that came out and supported the soccer team, while also noticing the effort that his team has contributed into each and every practice.
"The difference was that by the end of the game we had the most support we've had all season," said Ottati. "The positive there is that these girls have worked so hard all season that they deserved to have the Flint Hill community see them play."
Senior Madison Crowe also felt that the surplus of fans gave the team more incentive to win and defend its home turf.
"The fans at our game definitely made us more motivated," said Crowe, "We didn't necessarily have our best game, but we worked hard."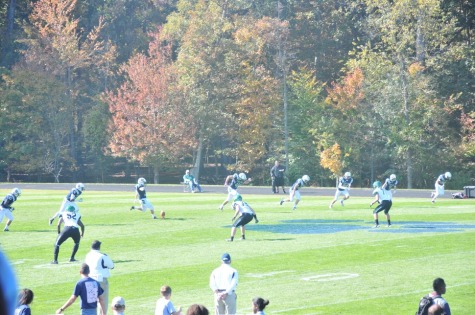 Last Saturday's victory moves the football team into third place, behind only Potomac and Sidwell Friends. Flint Hill has a crucial game on Saturday against Sidwell Friends that will help to decide the order in the MAC. The boys soccer team, even without a victory, had recorded nine wins, and four losses going into the league tournament. They followed up the tie with a resounding four goal victory over St. James. The boys will play a difficult state tournament matchup at Norfolk Academy on    October 31. The girls soccer team has achieved success too this season, winning eight games, and only losing five.
Leave a Comment