Huskies gather for Flint Hill's America-themed Homecoming
Flip though The View's Facebook album full of pictures from Homecoming and the Pep Rally. Photos by Arman Azad.
Homecoming 2014 kicked off with the pep rally, where students from grades five through twelve were in attendance. Students from all the grades played games, enjoyed a performance from the dance team, viewed a few acts in a mock America's Got Talent, and displayed an overall excitement for the weekend to come.
"The pep rally was so much fun," said senior Neeta Singh. "It was nice to see the whole school more involved in school spirit."
On Friday evening, junior and senior girls played each other in a game of powder puff football. The seniors won 32-6.
"It was a great experience," said junior Sasha Bilal, "and even though I didn't play, I thought it was so [much] fun watching my close friends on the field, even on the senior side."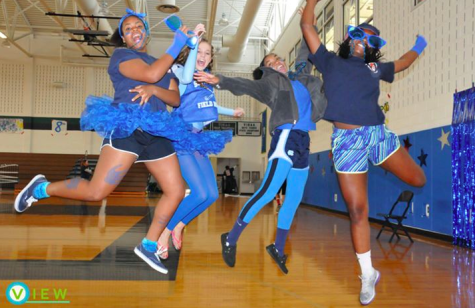 Following the game, the jazz band played a few pieces as a transition from the game to the bonfire, which many seemed to appreciate and enjoy.
"It was an awesome performance," said junior Min Park, a saxophonist in the band. "I think all of our hard work finally paid off. All the soloists did well and everyone just did a great job."
After the performance, the bonfire was lit as several Flint Hill families from the Lower, Middle, and Upper schools convened to celebrate their coming home. Members of the school could be seen spending time with each other around the massive fire, lit just a few feet from the football field.
"It was just really beautiful to see everyone come together," said junior Beimnet Shitaye. "The scenery was nice, the ambiance was great, and all the little kids were funny!"
On Saturday, students, parents, faculty, staff, alumni, and friends came together for a day of activities, including athletic games, booths, and time to spend with friends. Finally, to end the weekend, high school students attended the annual Homecoming dance.
"The dance was so [much] fun," said junior Olivia Thomas. "[FHS] definitely had a better DJ this time, which was nice."
Senior Allie Fellows, Upper School student body president, thoroughly enjoyed her last Homecoming week. The most memorable event for her was Friday's pep rally.
"Being able to get people excited about the weekend and about the school was such a fun and thrilling experience," she said.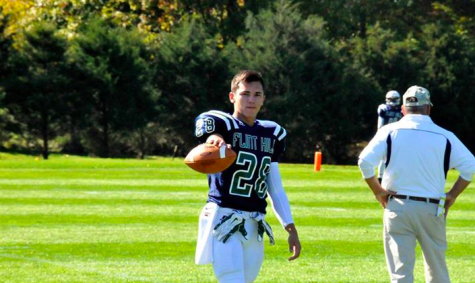 Fellows also loved the power puff game.
"The game was really fun, and everyone banded together from different friend groups to play together," said Fellows. "It was one of my favorite parts of Homecoming. Everyone was on their feet yelling, screaming, and they seemed to be having a lot of fun."
Fellows seemed enthusiastic about improving Homecoming for future years, even after she graduates. She hopes that athletic wear will be permitted for all of spirit week next year instead of just on Friday, which is always color day.
"Maybe before the year starts next year, [the administration] can make a deal that if all grades can keep their detentions under a certain level, then they can get to wear athletic shorts for the rest of the week," she proposed.
But even with that restriction, Fellows was impressed by Flint Hill's school spirit and looks forward to the rest of the 2014-2015 school year.
She said, "I hope everyone enjoyed it as much as I did, and I cannot wait to see what Winterfest and Springfest bring!"
Alumni Ahren Ellison, who graduated in 2014 and was the former Upper School student body president, came back to Flint Hill for Homecoming weekend. By attending the athletic events and just walking on the campus, Ellison reiterated the value of the Flint Hill environment and community that he recognized from the perspective of a graduate.
"It certainly felt different being there as an alumni than being there as a student," said Ellison. "It made me miss being at Flint Hill with all of my friends and the great faculty and staff there. There is so much at Flint Hill that the rest of the world doesn't offer and being back at school for the weekend made me realize that."