Kyle Wallace's musical talents take Flint Hill School by storm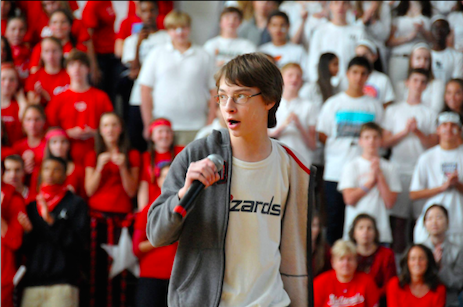 You've probably heard his name or seen him rock out in front of the whole school at various Flint Hill events. His personality lights up a room as he confidently strides back and forth belting out popular song lyrics. Wallace became widely known in the school community with his stellar performance at Open Mic performing Shrek 2's "I Need a Hero," by Bonnie Tyler, with his sister, senior Danielle Wallace backing him up on the piano. Being a freshman at a new school can be intimidating, but Kyle has taken Flint Hill by storm with his theatrical presence. He views performing as his way of getting himself known in his new community.
Whether he is beat boxing in Flint Hill's Major Minors club, drumming in jazz band, or performing at Open Mics, Wallace continues to make music a large part of his life.
"I'd always sing in church [plays]," said Kyle Wallace. "Then I joined a band in sixth grade, and that's what really started me performing. I was the singer. We were called "The Crew."  We won one first place and second place in Battle of The Bands, [in which] 35 regional bands compete for the title."
Music is constantly on Wallace's mind. His ability to sing and drum simultaneously entertains him.
"He is basically his own radio," said his sister. "He always has a song or a beat in his head. He'll have an idea and will immediately go to the drumset. He'll sing and drum at the same time."
Kylie Wallace is a member of the Major Minors. He is able to display his various abilities in that group.
"I'm very proud to say that Kyle is a Major Minor," said senior Courtney Ebersohl. "He is incredibly outgoing and talented. At the moment, he is our only vocal percussionist. Major Minors is full of skilled musicians, and he is a wonderful addition to our tenor section."
Wallace first made his presence known at Flint Hill with his memorable performance at Open Mic in September.  Music is his outlet, so the crowd's response is vital to him performing well.
"I didn't really know how people were going to take it," said the freshman singer. "But after that first chorus, when I started to run my voice, [hearing the] crowd cheer…it always makes me feel almost like… [long pause] It's an indescribable feeling to have everyone there watching [me]. I love the crowd. They're like my drive, my motivation. That's why I try to get a really good crowd response because that's really important to me."
Although mostly known for his singing abilities, Wallace possesses some other unique talents as well. He has been bowling for the National Capitol Area Bowling Youth league for eight years and boasts an average of 187 points per game.
"I'm not really a sporty guy," he said. "So, I really needed a sport that was just an outlet for me, so I could say I play a sport. I started out with about an 80 average, and over time [I] just [got] better and better."
Bowling is not just a fun hobby for Kyle Wallace; it is also helping him pay for college. He receives money for the tournaments he wins or places in.
"I have a pretty good college fund," said the younger bowler. "I have about $6,000… For my age, I'm pretty good."
With music being Wallace's focus, he encourages everyone who feels even the slightest interest in performing at open-mic to get involved.
"Just go for it; just try it out," the freshman said confidently. "Just get into it; act like you own it."
Leave a Comment