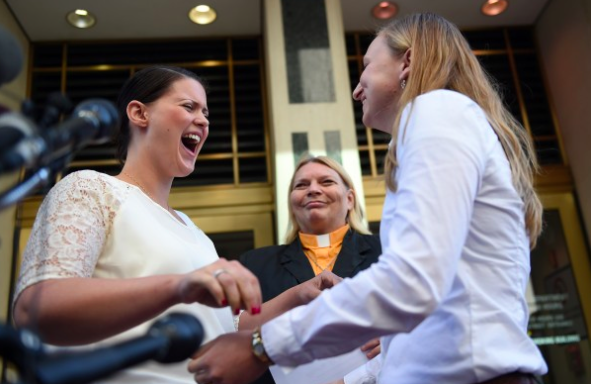 Last month, the Supreme Court denied judicial review of Virginia's ban on same-sex marriage, letting a lower court's ruling stand that the state must permit gay and lesbian couples to marry. Effectively legalizing gay marriage in not only Virginia, but five other states as well, the Roberts Court used the tacit ruling to quietly set an important precedent: same-sex marriage bans could not withstand constitutional review.
As a result of the ruling, 32 states and the District of Columbia now allow the freedom to marry.
With over 60% of states now permitting same-sex marriage, the recognition of such unions seems inevitable across the nation. But just a decade ago, attempts to legally recognize relationships between gay and lesbian couples were radical exercises in futility.
In 1998, Alaska voted on a historic amendment to its state constitution that read, "To be valid or recognized in this State, a marriage may exist only between one man and one woman."
Approximately 68% of Alaskans voted to enact the amendment. Ten years later, 31 states had put in place similar bans, restricting the freedom to marry for opposite-sex couples. The ban was enacted in an era in which only 35% of Americans believed that such relations should be valid and recognized, according to the non-partisan Gallup Organization.
The federal government had just banned federal recognition of any same-sex relationships through the Defense of Marriage Act (DOMA) and policies such as "Don't Ask, Don't Tell." Likewise, states were restricting the freedom to marry through state-level constitutional means, but there was nevertheless an inherent irony in states amending their respective constitutions—documents traditionally reserved for the protection of individual liberties.
For ten years, supporters of the so-called "traditional family" had enjoyed victory after victory, easily winning public support for banning same-sex marriage. But in 2011, anti-gay activists were faced with a crisis: 53% of Americans believed that governments should recognize same-sex marriage, according to Gallup. For the first time in history, a majority of Americans supported gay marriage.
And in 2013, the conservative Supreme Court under Chief Justice John Roberts ruled DOMA unconstitutional and struck down Proposition 8, a 2008 California constitutional amendment that banned same-sex marriage. Anti-gay organizations had spent $44.1 million to pass the amendment, according to campaign finance records, but the nation's highest court nevertheless invalidated the will of seven million voters who supported the Prop 8.
In the year that followed, 20 other state bans on same-sex marriage were invalidated by federal courts. Among these was the "Marshall-Newman Amendment," passed in 2006 by 57% of Virginia voters. As I wrote last year, however, the ruling that struck down Virginia's gay marriage ban was stayed pending an appeal to the Supreme Court.
With the high court's rejection of judicial review in the Virginia, however, marriage equality won a decisive victory, and gay and lesbian men and women across the commonwealth have begun to marry.
For junior Priya Gill, "the legalization of same-sex marriage is indicative of all the progress we're making as a state."
Video: Same-Sex Marriage in Virginia. Video Credit: Washington Post.
Many hope that progress will extend across the nation.
Junior Ekaterina Gaetjens, who is a member of Flint Hill's Rainbow Alliance, expressed hope for the future of marriage equality after the Virginia decision. "It's the state that I live in, and I feel closer to home of the hope that one day the United States, as one nation, will legalize same sex marriage. It suddenly seems more tangible, and it's a great feeling."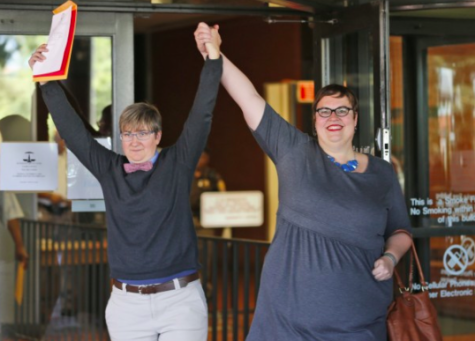 Gill's and Gaetjens's approval of same-sex marriage puts them among the 79% of American people aged 29 or under who support same-sex marriage, according to Gallup. Even among Republican youth, whose official party platform advocates for marriage as "the union of one man and one woman," 61% of those aged 18-29 supported same-sex marriage, according to the Pew Research Center.
But in a nation of representative government, some argue that the court's so-called "judicial activism" threatens to dismantle the notion of democracy. If a majority of the population decides to ban same-sex marriage, should the courts be in a position to undermine that sentiment?
To argue so would erode the very nature—and purpose—of the federal judiciary.
On March 20, 1924, the Virginia legislature, with wide public support, passed the Racial Integrity Act, which banned interracial marriage.
The only problem? A 1868 constitutional protection known as the Equal Protection Clause, a part of the Fourteenth Amendment. It is "the basis for claims of legal equality," according to Linda Monk of the National Constitution Center, and was used by the Supreme Court to strike down Virginia's ban on interracial marriage in the 1967 landmark case Loving v. Virginia.
The amendment reads, "A state shall not…deprive any person of life, liberty, or property without due process of the law, and must guarantee all person equal protection of the laws."
And despite what some right-wing activists may claim, gays and lesbians are in fact people.
In fact, they're more than just people—they're neighbors, co-workers, and classmates. They're doctors, lawyers, and teachers. They're uncles, aunts, and cousins. They're loving mothers, caring fathers, and prosperous children.
And now, thanks to our nation's highest court, they can be husbands and wives too.