Major Minors a cappella group embarks on regional college tour
From Thursday, October 16 to Sunday, October 19, the Flint Hill Major Minors toured the College of William of Mary, James Madison University, and the University of Maryland, performing and meeting with a cappella groups at each school.
"I think the mini tour provides our young singers with a glimpse at more advanced ensembles," said Sarah Pramstaller, Flint Hill choir teacher and Major Minors co-director. "They got to hear some fairly intricate arrangements, and were able witness dynamic stage presence and confidence in the groups we worked with. In short, the Major Minors were able to see and hear the next level of the a cappella world."
Two-year member Sonia Schmidt shared her main learning takeaways:
"We learned all about correct vowel shape and blending," said Schmidt. "We also were generally inspired because the groups we visited were so incredible. [We also] learned a new warm up to help us with vowel matching."
Three-year member Arman Azad shared what he took away from the tour:
"We definitely learned a lot musically from this experience," said Azad. "The groups taught us tons of a cappella tips and tricks, and vocal techniques, that we are going to apply to our group at Flint Hill."
While the tour was definitely worthwhile, it also involved missing a day of school. Both Schmidt and Azad described what doing homework was like.
"You can't truly balance the tour with homework; it isn't really possible," said Schmidt. "If possible, you [get] extensions on longer assignments or instead you just stay up until the small hours of the morning in order to get work done," said Schmidt.
Nevertheless, the trip was worth it, said Schmidt. "We grow so much as a group, both musically and emotionally."
Azad's response echoed Schmidt's.
"Balancing the tour with homework and other obligations was definitely difficult," said Azad.
"Not only did we have to miss a day of school and make up that work," he continued, "but we had other homework assigned over the weekend as well. We did have time to do homework on the trip, but it required a lot of self-discipline to do so in a hotel room. But I would do it again in a heartbeat."
Although the tour was busy and tiring, there was also time for fun and memorable moments. Both Azad and Schmidt highlighted moments that were memorable for them.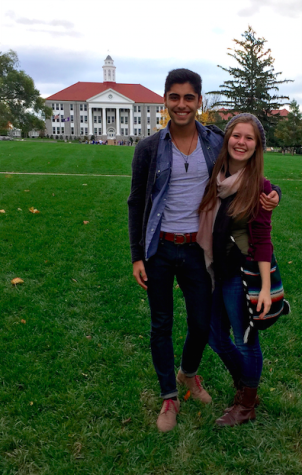 "On the last day of the trip, we paired up with a college a cappella group and workshopped one of our songs with them, meaning we taught them the piece and they offered advice on it. It was 'Africa' by Toto, and the most memorable experience of the trip was performing it together with them on the lawn of University of Maryland," Azad said.
Schmidt's most memorable moment of the trip was a bonding activity.
"The part of the trip that was most memorable was probably mini golfing in Williamsburg," she said. "It was so [much] fun, and we were some of the only people there. It was truly a bonding experience."
A highlight from Pramstaller's experience was hearing the college a cappella groups practicing.
"As for teaching takeaways, I know Dr. Scott and I both enjoyed some of the fresh, new warm-ups we heard some of the collegiate groups doing," she said. "We even recorded a few of them for future use with the Major Minors."
Both Schmidt and Azad shared five words that summarized their experiences on tour.
Schmidt chose "exciting, educational, exhausting, challenging and entertaining."
Azad's were "fun, educational, exciting, eye-opening, valuable." Both singers had "educational" and "exciting" in common.
The two students look forward to next year's tour.
Azad said, "The tour is usually an annual event, so I hope we do it again next year!"
Schmidt said, "I would love to go on tour again next year. It's a challenge, musically along with just the time commitment, but you get so much from the experience that I wouldn't miss it for the world."
It is clear to see that, although maybe hard to fit into the busy lives of these students, the Major Minors tour was a worthwhile, instructional, and meaningful trip.
Leave a Comment