New voters in the senior class set to vote in Virginia's senatorial election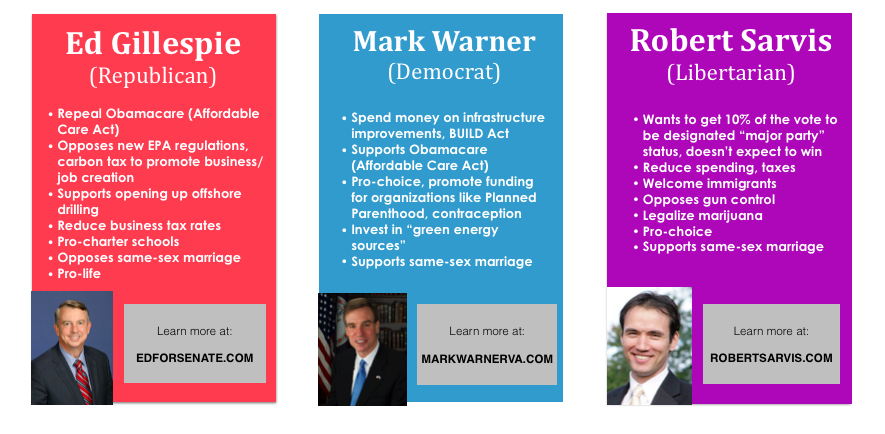 Come November 4, the commonwealth of Virginia will open the voting booths to elect its next senator. The three candidates are the incumbent Democrat Mark Warner, Republican Ed Gillespie, and Libertarian Robert Sarvis. These hopefuls have diverse political objectives, which could make voting rather difficult this November, especially for some Flint Hill seniors. This year, a few 18-year-old students will be participating in the first election of their lives.
Gillespie presents himself in a very economic light and actually has, according to his website, edforsenate.com, the slogan "For Economic Growth" printed on all attire and marketing tools, showing how highly he values this issue.
Gillespie would do away with Obamacare as much as possible and implement more of what he feels are conscientious and effective alternatives. At the same time, he would increase natural resource usage in the country and simplify what he calls "our overly complicated tax code," as written on his website. This will all feed into his plan of addressing the budget and government deficit through concrete, clear, and deliberate action.
Senior and first-time voter Christian Lessard will cast his ballot for Gillespie, even though his "set of beliefs may fall under the libertarian party."
"I personally am an economic conservative and social liberal… however, I will be voting with the Republican ticket this election," said Lessard. "To me, Gillespie's priorities really align with mine."
Senior and first-time voter Sean Penayi agreed with Lessard and knows that others in the FHS community do too.
"I have noticed more and more of my peers sharing [Lessard's] views," said senior Sean Penayi. "I personally agree with [Gillespie] after having taken macroeconomics and studying what government involvement in the economy does to it."
Warner's chief issue is government spending and its budget. His agenda on this topic is four-pronged: balancing Virginia's budget, fixing the national debt, addressing government waste, and promoting government transparency. One of Warner's chief accolades was working with a majority Republican general assembly in 2004 to keep up Virginia's credit rating, and since then he has been working with more national entities and organizations to mend the budget and government spending habits.
Few individuals have come forward saying they are voting Democrat this election.
"Warner's objectives, I think, would appeal to Virginia voters, because of his focus on economic improvement and community involvement in government," said senior Alexandra Cline, who would vote for the Democrat, but whose birthday is a few weeks short of the election.
The Libertarian candidate, Sarvis, shares Gillespie's zeal for economic growth and fiscal reform but presents it in a much less forward manner. On Sarvis's website, he says that "economic freedom leads to innovation, job-creation, and wage growth."
The actual ways and methods Sarvis plans to use to achieve this reality are not detailed in his public platform. He also has targeted the monetary policy of the United States as a chief reason for the current economic lull we are in. Nevertheless, Sarvis seeks to appeal to voters with a socially liberal platform, endorsing same-sex marriage and the legalization of marijuana.
Senior and soon-to-be registered voter Madison Crowe said that she will be voting for Sarvis.
"I believe in the Libertarian [party], specifically the equality that it asserts and the economic policies it [supports]."
The Flint Hill Young Democrats club, along with the students in the AP Statistics class, will be hosting a mock election to see which candidate would win amongst the student body.
View Comments (1)