The Upper School theater program presents The Crucible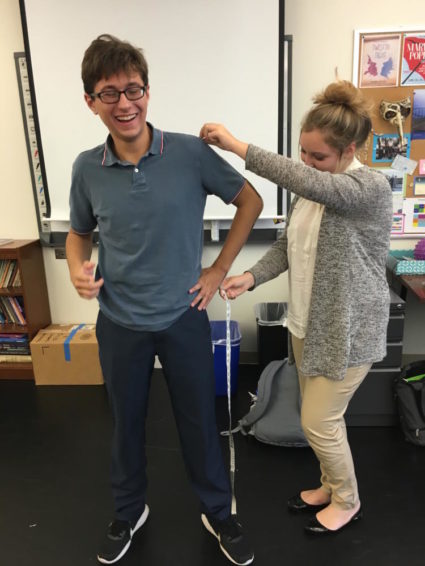 By Jansi Patel and Lily Kyser
September 28, 2017
Hang on for a minute...we're trying to find some more stories you might like.
On October 27 and 28, Upper School students will be performing this year's fall play, The Crucible. Many students are excited to support it by attending the show, and others are excited to be a part of it, whether they are actors in the play itself or members of the crew.
The play is set in the 1950s and is based on the events of the Salem Witch Trials and the McCarthy hearings. Kate Davis, Flint Hill's theater director and director of the production, says that it displays common themes such as human beings turning against each other. She finds it incredibly interesting because "imagination and fear overwhelm reason and facts."
Davis described the show as "intense, frightening, and thought-provoking" due to the deep characters and the many different points of view portrayed throughout the production. She explains that she loves being a part of plays because she enjoys seeing "everyone working together towards a common goal." She is especially happy to be an instrumental part of this show and said that she loves working with every person in the 19-member cast.
This year, the cast is a mix of students. Some are new to Flint Hill, some are new to acting, and some have been at Flint Hill and have performed in plays here in past years.
The upperclassmen who are taking part in The Crucible noticed that not many underclassmen were involved. They wanted to encourage more people to audition for the plays at Flint Hill, even if they have never taken an acting class.
Junior Maddi Moran advised students to "jump in head-first and don't be afraid." She added that through taking part in plays, she has created many friendships. She explained that the members of the productions are very welcoming and friendly, and, after seeing each other so often, they end up becoming like a family.
Another junior, Sasha Wai, agreed with Moran and added her own insight into the benefits of getting involved in school productions.
"Being a part of a play helps people gain public speaking skills, which are extremely helpful to have in high school," Wai said.
Overall, the students involved in the play are truly enjoying it so far, and they encourage everybody to come see it. Of interviewed students and 
teachers, 70 percent said that they were interested in going to see the production, so it seems like there will be a great turnout.
Remember to go see The Crucible to support all of the people in our community who are giving so much time and effort in order to put on a great show!
Photos:
Taking measurements of the actors to order costumes.

The back of the physical copy of

The Crucible

that Mrs. Davis is using.
All photos taken by Jansi Patel.