Major Minors Mini-Migration for Music
Hang on for a minute...we're trying to find some more stories you might like.
Since its creation, Flint Hill's Major Minors a capella vocal group has upheld a stellar reputation for their hard work and dedication to the arts.  The audition-based extracurricular offers students the opportunity to exercise vocal skills through various contemporary music selections.
With 26 students this year, the number of students auditioning is increasing every year and the musical group is becoming more and more selective.
Throughout the year, various activities present themselves as chances for the students to show off their skills, with a musical tour in Durham, North Carolina, kicking off this year's events.
In preparation for the event, the students had rehearsals twice a week on Thursdays and Sundays for 4-5 hours a week. The focus of these rehearsals varied, sometimes centerin
g on perfecting harmonies, other times balancing the blend in tone quality, vowel matching, and showmanship in performance.
Sarah Pramstaller, Middle School and Upper School Choral Teacher and Director of Musical Productions as well as the faculty sponsor for this program, said that the tour was "mainly for educational purposes," as an "experience to learn from older, more advanced collegiate groups through workshops."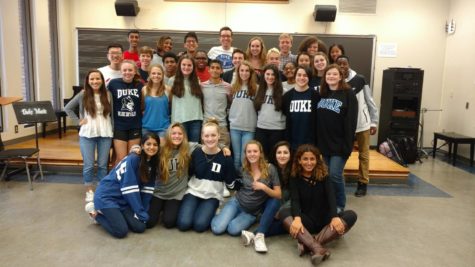 This year's Major Minors had the opportunity to perform and participate in workshops with various vocal groups in the Durham area, including Rhythm in Blue, The Pitchforks, Something Borrowed Something Blue, and Out of the Blue, all vocal groups at Duke University, as well as Catch-222 and Second Shift, other groups in the Durham area. Complete with an impromptu concert at a restaurant, the tour was undoubtedly a success.
Junior Dhruv Pillai raved about the tour, saying that the group "learned many helpful techniques" and "got to see amazing college groups perform."
In reference to the determined students, Pramstaller said that "[the students] responded really well with the little time [they] had" and "connected well with the older students in the groups."
The future for this talented group is filled with activities to keep them on their toes. Their next event of the year, a Major Minors concert, will be after winter break, in February. The students will also have a recording project in February, and will perform in April in the Arts Jam show at George Mason University.
The students are also looking forward to Sing Strong, a spring a cappella festival in DC, with dates yet to be determined.