A Snapshot of Flint Hill's Digital Arts and Graphic Design Programs
Hang on for a minute...we're trying to find some more stories you might like.
Flint Hill's Digital Arts and Graphic Design programs are two of the most cutting-edge programs offered in the Arts Department, and the programs both have quite a lot going on this year.
Both the Graphic Design and Digital Arts tracks start with the Foundations in Digital Art, as it is a prerequisite for all other classes in the programs. In the Digital Arts track, after taking Foundations, the options are Photography, Photography II, as well as the new Filmmaking course, which the View profiled earlier this year. The Graphic Design track starts with Digital Imaging after Foundations, followed by Graphic Design I and Graphic Design II. Students in both of the tracks are eligible to take the Topics in New Media Course when they have finished the other levels of their respective programs.
Currently, students in Photography I are working on studio portraits, while Digital Imaging students are creating type-related portraits. For this project, they are heavily utilizing the computer programs Adobe Illustrator and Photoshop, which are integral to many of the courses, and are important tools going into the digital age. As Catherine Huber, Upper School Digital Arts Teacher, puts it, "What we teach is relevant." Graphic Design I students are creating book cover designs of an autobiography of themselves meant to represent what they expect their lives to look like twenty years from now. Graphic Design II is an extremely unique class, as the students in this class actually work to create materials to promote school events. Many Flint Hill materials, such as posters for dances, programs for shows, the Nutcracker banners, and the yearbook cover are all created by students in this class.
Huber said her favorite part of the class is talking to high school students about ideas. "I love working through problems and building solutions. I learn something new every day. [My students] challenge me to take meaningful risks, hone my own skills, and stay artistically light on my own feet."
Those interested in looking for the work of Digital Arts and Graphic Design students can see many projects on the walls around the Upper School campus, and many projects will be on display at the annual art show which will be held in early April. As Huber says, "It's always great to see the work fill the halls in the spring!"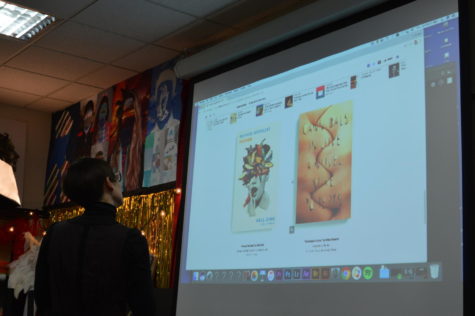 Photo Credit: Patrick Lovelace