Flint Hill's The Nutcracker performance enchants the audience
Hang on for a minute...we're trying to find some more stories you might like.
On November 17, families, students, and faculty alike rushed into the Olsen Theater, eagerly taking their seats. Flowers were stuffed behind chairs and under bags, programs were handed out, and family members were welcomed to the school. As the lights dimmed, the steady hum of voices dropped to a still silence. The curtains fell back, revealing a fascinating set and what was to be the beginning of this year's The Nutcracker.
For senior Lindsey Alloy (Sugar Plum Fairy), this performance held significant importance.
"This year was my last time performing in the Flint Hill's The Nutcracker [after seven years]," says Alloy. "I was so happy that all the shows went so well, and I just had such an amazing time performing this role on stage for the final time. It was extremely emotional for me."
This was Alloy's second year holding a lead role in The Nutcracker, this time as the Sugar Plum Fairy. This role entailed intense choreography and a rigorous rehearsal schedule.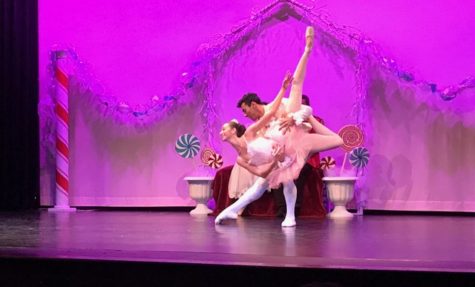 Photo Credit: Leyla Ebrahimi

"I had rehearsal for my variation [solo] for thirty minutes during extra help once a week," says Alloy. "Then every Sunday I would have rehearsal with Emanuel [a professional male ballet dancer from the Virginia National Ballet] for two hours."
"It is such an amazing experience to dance with a professional ballet dancer," said Alloy. "Emanuel moved here from Brazil and is a dancer in the Virginia National Ballet. He is so talented, and I loved working with him. He was really helpful in giving me corrections and suggestions on how to improve, and I appreciate him so much. I am so glad that I had the opportunity to work with him."
This year was the second Nutcracker performance for senior Sarah Parks.
"This year I was the mouse queen, a snowflake, and the lead toffee," says Parks. "I had so much fun learning and performing each piece but getting the opportunity to be the lead toffee was especially fun for me because I love tackling new characters and the costumes were beautiful."
Considering the professionalism and extensive choreography that the production consisted of, it is assumed that these dancers have dedicated an inordinate amount of time to ensure that the performances were all successes.
"The Nutcracker is as big of a time commitment as you make it," says Parks. "Rehearsals for your class piece are usually once [or] twice a week, and rehearsal for a specialty piece is usually once a week. Like any activity, it's all about how much time you put in outside of the class and rehearsal. Since I memorize choreography fairly quickly, I focused most of my outside attention on developing a character so I could help sell Clara's story and experience to the audience. I also was the student director so I worked a lot with Mrs. Mrykalo to make sure the show went smoothly."
This year The Nutcracker was beautifully performed and produced. Congratulations to the entire cast and crew on this incredible achievement!