Combined Band Entertains at the Bonfire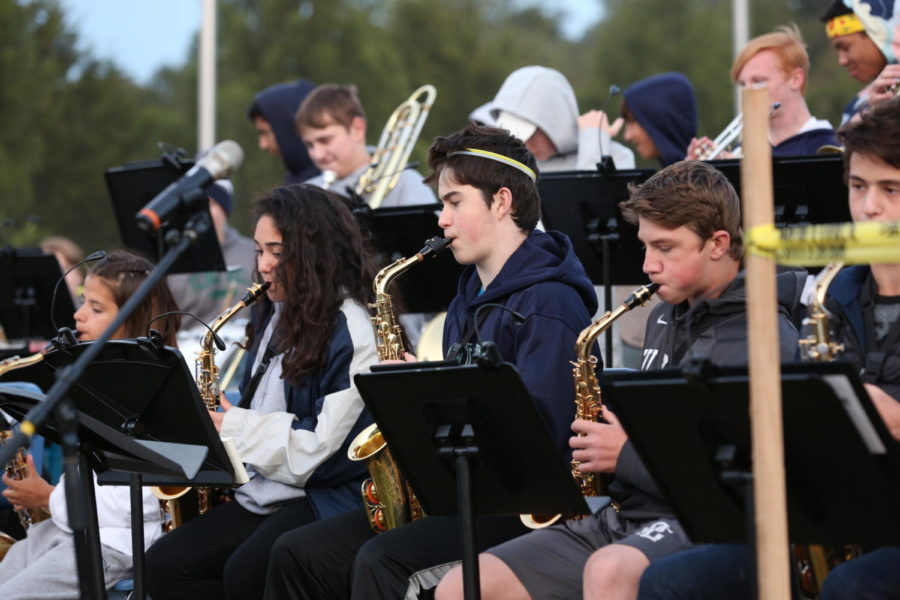 By Isaac Grossman, Staff Writer
November 1, 2018
The combined symphonic and Jazz bands begin setting up their equipment in preparation for the end of the soccer game. The second the game ends, the crowd drifts over from the bleachers. The band warms up, and Dr. Scott hands out electronic tuners, plexiglass screens, and stand lights. The band double checks that everyone is in tune and it starts playing our first song, Havana.
The popular song had three jazz solos, played by junior Erica Kim (flute), sophomore Jacob Dorchinsky (saxophone), and senior Jalen Knight (saxophone). Dorchinsky played the written solo quite well, while Knight did some terrific improv. The next piece they played was Livin' on a Prayer. This piece was extremely entertaining due to amazing drummer Garrett Blum's drum solo.
The band continued the entertainment with a rendition of "Despacito," filled with some challenging trumpet parts that the band tackled well. The following song, "Africa" by Toto, was an all-around sax-line feature. At the start, the percussion was given the spotlight, but after the melody, the saxophones took over. Sophomore Alessandro Silva blasted the melody on the baritone saxophone, while the altos and tenors played the response. The performance concluded with "Gimme Some Lovin'," with the audience showing particular appreciation for the song's tricky rhythms.
The success of the event reflected the hard work that goes into practicing and performing at an event like the Bonfire. The band rehearses four times a week, and each individual musician has to practice at home. In addition, the setup and take down of every band event is conducted by the band members. Many people gladly gave up their free period to take band and prepare for events like Homecoming.  Next time you listen to the high flutes, low baritone, and the beating of the drums, be sure to appreciate the work that goes into creating these events.