Huskies Participate in Empty Bowls with Enthusiasm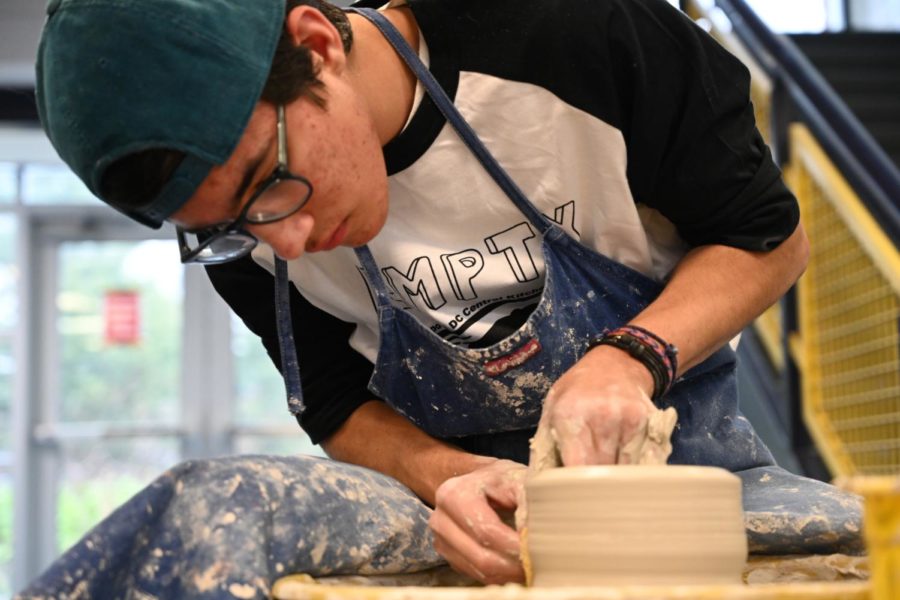 In the cold and rainy winter, there's nothing better than some bowls of comforting soup to keep warm, coupled with a few friends or family members while enjoying the beautiful artwork from our fellow classmates! On February 23, 2019, Huskies participated in Empty Bowls in the Upper School Commons to support D.C. Central Kitchen. Students from all three school levels were present: Lower, Middle, and Upper.
This has been the 9th annual Empty Bowls event hosted at Flint Hill School. It is evidence of true dedication from Mrs. Julia Cardone, Upper School Fine Art Teacher, and the Clay Clubbers. The event spanned from 11:00 am to 2:30 pm with bowls for sale, silent auctions, pottery demonstrations, live music, temporary tattoo stations, and fresh soup. Three hundred people attended Empty Bowls this year. The Commons was full of warmth and great energy! The Goal: to have a wonderful time celebrating community, or "CLAY-munity," while creating opportunities for others.
Mrs. Cardone said she was "left feeling so proud and honored to be a part of a community that devotes themselves, their talents and heart in the spirit of supporting others."
Director of Fine Arts Dr. Tim Mitchell organized a group of talented students to bring music to our ears. All-School Service Coordinator Linda Okoth and Upper School Diversity and Inclusion Coordinator Tracy Peterson helped collect the funds from handmade bowls purchases. Headmaster John Thomas, Director of the Upper School Rico Reed, Upper School Dean of Students Howard Chang, and several other teachers attended the Empty Bowls in support of this worthwhile service event.
Those eye-catching bowls could be seen from all around the Commons. All the bowls were made and painted by hand by Lower, Middle, and Upper School students, faculty, and alumni. On the sides were the food station and the silent auction. The food was provided by Fairfax Foods.  The ceramic pieces at the silent auctions were made by Advanced Ceramics students and even Mrs. Julia Cardone herself. Perpendicular to the entrance of the English Hallway was the live pottery demonstrations zone. It is where Ceramics students Nancy Xu, Lily Lindquist, Adin Turetsky, Kian Shah, and Andrew Erickson performed live pot throwing to a diverse and lively audience.
During a pottery demonstration, a girl asked Adin if she could throw a pot. She had never done it before. Turetsky agreed, and with his and Xu's help, the girl completed her first pot. This was a meaningful moment for her which could spark her interest in Ceramics. After finishing the pot, she asked Adin when she would be able to receive the finished pot. Adin told her that it would be next year's Empty Bowls. This drew some chuckles out of the audience.
"Our Clay Club worked tirelessly to make this year special, and we are all so grateful to all those who supported our efforts and came out to enjoy the day with us," said Mrs. Cardone.
One of the most interesting parts of this year's Empty Bowls Service Event was the Blind Throwing Challenge where the aforementioned Ceramics students threw gorgeous pots while blindfolded. They couldn't see the pots, but they could feel them. The audiences were amazed by their "miraculous" ability to throw pots.
Junior Nancy Xu had a very successful and exciting day, saying "many people came to buy our bowls, and we had a great time! A couple bought my bowls and they were very nice. I appreciate it very much! The soup tasted good too. [It was] just an overall fantastic experience!"