Music Man Preview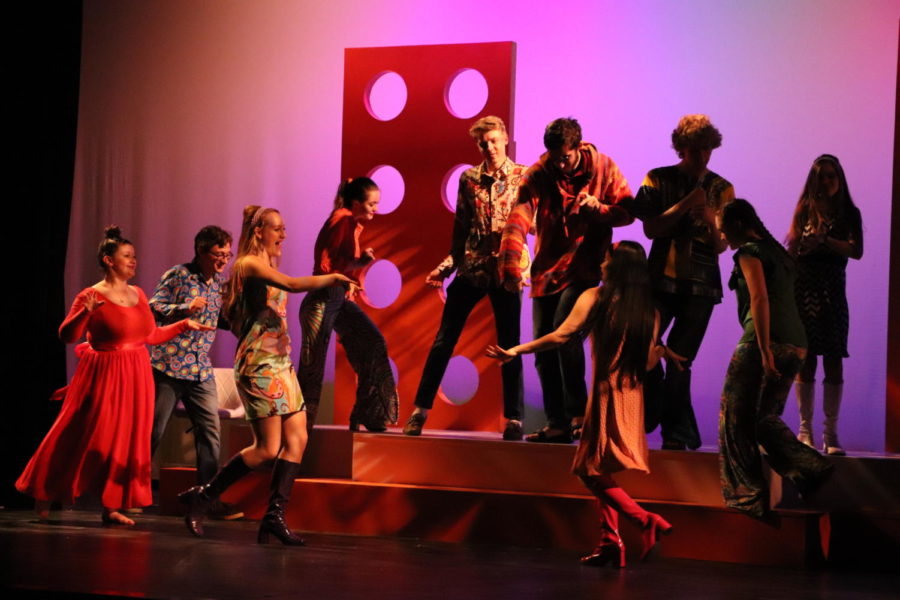 By Lily Kyser, Arts Editor
March 4, 2019
Every year, Flint Hill produces a spring play, often a musical. This year, the Flint Hill Theater Department is producing the The Music Man.
Peter Heller (senior) explains that The Music Man follows the story of Harold Hill, a conman, who "goes from small town to small town, swindling people by promising to create a band, then taking the money set aside for the band and skipping town. Eventually he shows up in River City Iowa where his plan gets interrupted and things go awry."
Heller is playing Charlie Cowell. The leads, George Moacdieh (junior) and Rachel Hall (senior) are playing Harold Hill and Marian, respectively.
Actor Maddi Moran is playing the role of Zeenta Shinn. She tells that her favorite part so far has been learning a musical number, "Marian the Librarian."
"We have book props and we're jumping over library tables while trying not to get caught by Marian, and it's so much fun to act in," Moran explains.
Heller also enjoys "Marian the Librarian," and he really likes the opening scene, Rock Island, because it is "entirely composed of really cool rhyming dialogue."
Heller and Moran both say they've been working hard on preparing the most popular songs from the production.
"We are performing one of the most famous songs from the production, "Seventy Six Trombones," at arts jam so everyone is working hard to have that part ready," explains Heller, "memorizing lines, practicing the choreography and learning the music."
Senior Sasha Wai says it's been interesting because "we have a smaller cast this year than in previous years." She says everyone is working hard, "it's a good group, and we're all enthusiastic about putting on a good show."
Acting as Alma Hix, Maya Jaffe (junior) says she's "so excited for everyone to see the play. We've spent a lot of time working on it and everyone will think it's great."
Flint Hill audiences can catch The Music Man on May 2, 3, and 4.