"Romantic Endeavors" One Act Plays Captivate Audience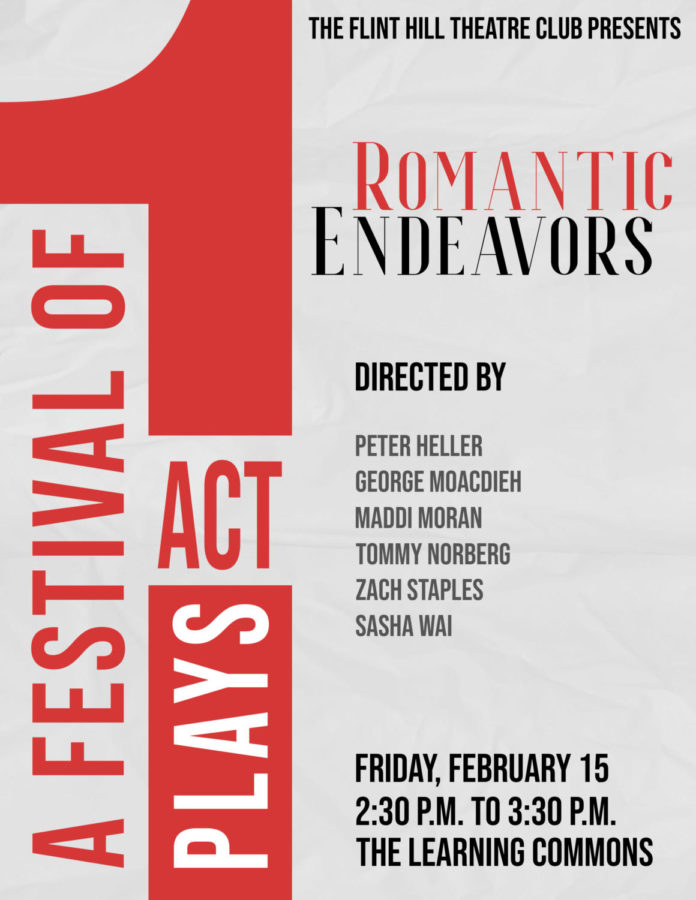 By Noah Ashenafi, Media Editor
March 4, 2019
For the past three years, the Flint Hill Theatre Club has put on a series of student-directed short plays that are performed for the Flint Hill community after school. The plays are an opportunity for these avid directors and performers to put on a show that is completely student-driven, from script-writing to the added effects. On February 15, directors Peter Heller, George Moacdieh, Maddi Moran, Tommy Norberg, Zach Staples, and Sasha Wai presented the one-act plays with the theme "Romantic Endeavors," making it the first year there was a distinct theme.
As the name suggests, "Romantic Endeavors" studies the concept of dating and romantic relationships through many different scenarios and characters. Senior Hannah Khan acted in two of the plays that were both written and directed by Senior Sasha Wai. In the first play, Khan played a character named Liz who explores the evolution of flirting tactics from preschool until middle school with two of her other friends. In the second play, she played a character named Mia who holds auditions with the help of her friend, Olivia, to find a prom date. The humor and relatability induced both laughs and heartfelt reactions from the audience.
Romantic Endeavors had great reviews from its audience, but Khan said that it was just as fun to practice as it was to perform. In fact, Khan said that her favorite part about the one-act festivals, which she has participated in for the last three years, "has consistently been the dress rehearsal that we have the Thursday before the show." During these dress rehearsals, the actors go through the entire show and are able to watch the other acts while they're not performing. This is a great time to perform in front of the other actors and is also very beneficial because they are able to see their reactions and be given feedback.
Even though the one-act plays were Khan's final theatre performance at Flint Hill, she says that memories she made in the theatre program will last long after her time in high school: "The thing I will miss the most about Flint Hill theatre is definitely the sense of family that we all have. Everyone in the theatre club and in the casts of the plays create such a fun and creative environment that I will certainly miss." Khan also realizes the importance of helping mentor and encourage new members of theatre department: "Now that I'm a senior, I also enjoy watching new, younger students join the theatre program in the high school and being able to bring them into our community." Actors like Khan have made sure that the Flint Hill Theatre Club and the one-act plays will be successful for years to come.