Flint Hill students showcase talents in Visual Arts Show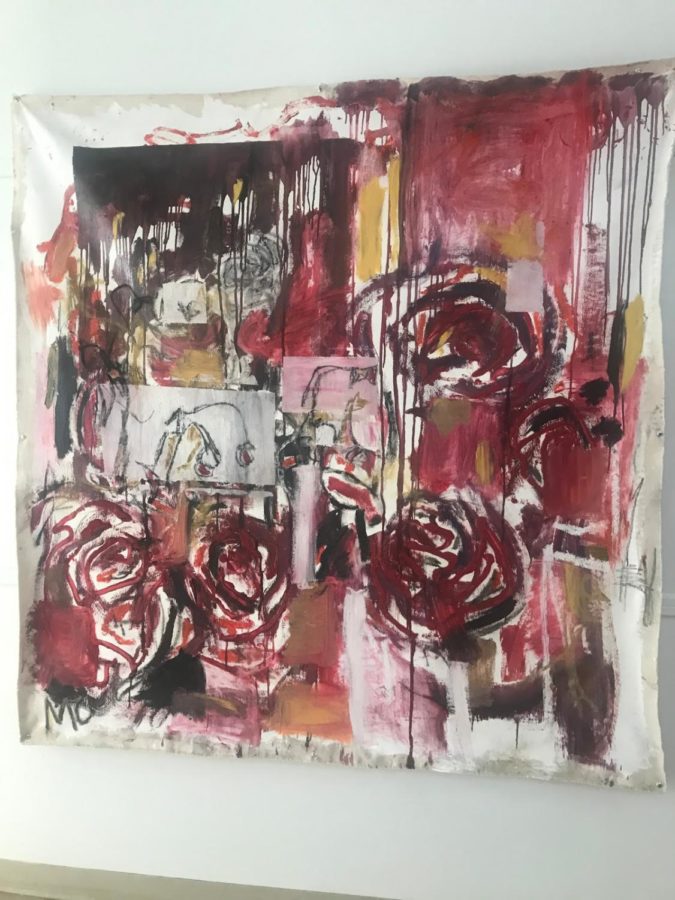 Flint Hill's art students highlighted their talent at the Visual Arts Show, showcasing their vast skills in different types and styles of arts. The Upper School was covered in black boards presenting the hard work done by the Digital Arts classes, the hallways were decorated in work done by the Portfolio Arts students, and the Learning Commons held pottery from Lower and Upper School students.
In the conference room, two films created by Junior Ben Ephraim were played on a loop, and the sides of the room were covered by the faces of iconic and inspiring people, including Sitting Bull, Michelle Obama, and Chrissy Teigen.  
Senior Portfolio Arts students Maddie Chiarolanzio and Sam Gloe have been working long and hard on their art. Chiarolanzio wanted to "focus on the people I love, as a thank you to them." Her favorite creation was the paired paintings of her grandmother. "Painting those for her was what I needed to move forward without her, [while] knowing she will always be there," she said.
Alternatively, Gloe said she "wasn't super confident in my ability to draw myself," but was pushed to do more self-portraits by Upper School Art Teacher Nikki Brugnoli. "I got so used to [drawing self-portraits] that I decided I wanted to incorporate them into my senior show."
Gloe's art was a series of tarot cards, and they explain that "I'm really into creative writing and film.  So, my mind shifted to exploring archetypes/character tropes, and that rabbit hole eventually leads to the idea of using myself to portray the iconic figures of the tarot."
The TV outside of the Learning Commons flashed with all the pictures and creations the Digital Arts and Photography students created this year.  Posters Digital Arts students made for choir, orchestra, band, and theater performances are displayed on the black boards, proving that Flint Hill's arts work to support each other and that our students have incredible talent that can be utilized outside of class.
Junior Maya Jaffe attended the Arts Show and said she was "happy that so many people came to recognize the arts" and that "the work [I] saw was really impressive and it's amazing that Flint Hill students have this talent."
The Arts Show provided all of us an opportunity to appreciate our Arts Program and the hard work and dedication of our visual art students.