Flint Hill Book Exchange (Ex)changes Lives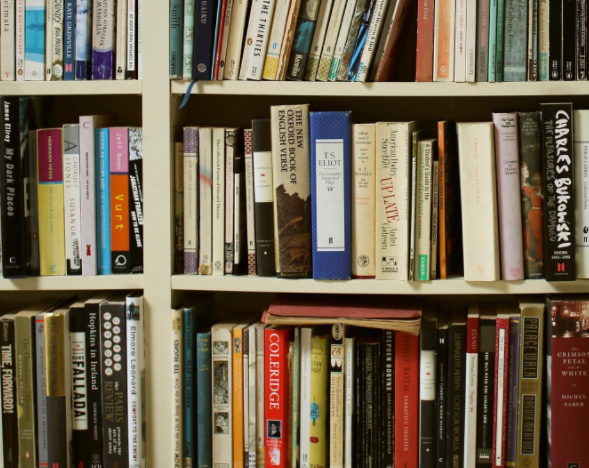 Hang on for a minute...we're trying to find some more stories you might like.
To celebrate World Book Day this year, a number of Flint Hill Upper School students participated in a book exchange to generate excitement involving physical books and literature. World Book Day fell on Sunday, April 23, so the trade took place on Friday, April 21. There were twenty-six students and eight faculty members participating in the exchange, and a myriad of genres of literature.
Tara Monjazeb, a junior, came up with the idea based on a similar exchange she saw online.
"The idea was to send your favorite book to somebody who was a friend of a friend of yours (who would most likely be a stranger to you)," Monjazeb said. "[Then,] you would receive one back from a different friend of a friend of yours."
Receiving a book from someone you do not necessarily know allows everyone to find a new novel they might not have originally chosen. Though participants could specify your preferred genres, many opted for a random selection, trusting their "giver" and allowing them to take advantage of the anonymous platform.
With the help of junior Neha Sharma, leader of one of Flint Hill's book clubs The Bookshelf, and Upper School English teacher Tracy Peterson, Monjazeb was able to organize the exchange, set up the Google Form, and announce the trade to the school.
The goal of the book exchange was to help members of the Flint Hill community take time away from their screens to focus on something tangible. Though the technology Flint Hill has provided is an incredible tool for learning, the book exchange gave everyone an opportunity to step back from their computers and enjoy a unique, often underestimated experience.
"Sometimes we just need to take a break and think for a while, and for me, that's what literature provides," Monjazeb said.
Others also saw the book exchange as a time to embrace paper media.
"I know the world has turned toward the electronic book, but for many of us, there is just no substitute for holding a book in your hands, for making notes in your own handwriting, using cool pens and Mildliners to highlight cool lines and passages," Peterson said.
In addition to the break from technology, many people chose to participate in the book exchange because they were looking for a change in pace in their reading selection.
"I really love to read, but I often feel I only choose a certain type of book because I know it is what I like," junior Aubree Phillips said. "I wanted to read different books and get a book that one of my peers enjoys."
Overall, the book exchange was a success that left many students happy and thrilled to begin their newly acquired piece of literature.
"I loved seeing all the books in everyone's mailbox and couldn't wait to give my person her book," Sharma said. "It kind of felt like it was my birthday and that I was getting a present."
Phillips echoed the sentiment.
"I got two books because my person couldn't decide [which to give me]. I am so excited to read them," she said.
Looking forward to future years, Monjazeb and Sharma are already thinking of ways to improve the exchange.
"I hope we can keep it a tradition for a while," Monjazeb said.
Students and faculty alike were content with the results, affirming that the book exchange was a wonderful and worthwhile experience.
"I know I'm an English teacher and all, but what's better than giving someone else a book you have loved?" Peterson said.