Reyhaneh Khaze: A math teacher's road to success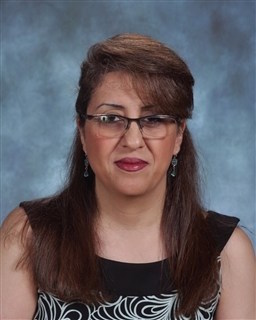 Hang on for a minute...we're trying to find some more stories you might like.
Every school day, students walk into Flint Hill with the expectation to receive an education. It is something many students take for granted. At Flint Hill, Huskies are privileged to obtain a good education with great faculty members to support their journey through learning and discovery. However, this is not an opportunity shared by many people around the world, including members of the Bahá'í religion in the Islamic Republic of Iran.
New to the math department and Flint Hill Upper School community is Math Teacher Reyhaneh Khaze, a Bahá'í religious refugee who escaped persecution in Iran to pursue a better future both for herself and for her children. Hers was a long journey from which every Flint Hill student can learn.
At a young age, Khaze had a passion for learning that transcended the constant abuse and bullying from non-Bahá'í classmates who believed that the Bahá'ís were unclean and that tormenting her would bring them some heavenly reward.
"The other religious minorities in Iran are acknowledged in the Constitution, but not Bahá'ís," Khaze explained. "There are two things in the Bahá'í religion that the [Iranian] government doesn't like: There's no religious leader of the Bahá'í faith, meaning Bahá'ís [reject the authority] of Muslim religious leaders. The [Iranian Government] also connects [the Bahá'is] with political issues they have, [their conflicts with Israel], for example."
Conflict only escalated once Khaze graduated high school, right as the Islamic Revolution broke out. As a result, those of the Bahá'í faith lost an innate human right: the right to an education. But Khaze's unrelenting will and love of learning led her to continue to fight for her education.
"I applied to college every year for ten years and kept getting rejected only because I was Bahá'í," she said.
Eventually, the Bahá'í community decided to form their own "underground" university, The Bahá'í Institute for Higher Education (BIHE). Professors who had been dismissed from teaching at Iranian universities were asked to teach classes in Tehran. These classes were held in basements and kitchens in the homes of Bahá'í families and were always subject to government raids. Despite this, people from all over Iran, including Khaze, participated in this institution. In four years, Khaze obtained a bachelor's degree.
Due to the limited job opportunities offered to the Bahá'í, Khaze became a surgical technician in a private hospital in Iran, not being able to pursue her true passion: math.
Finally, Khaze and her family achieved refugee status and fled to the United States to start their new lives. Free from religious persecution, Khaze attended Montgomery College with her son in 2010 to receive a bachelor's degree, then the University of Maryland, and then Smith College to receive a master's degree in education and mathematics, at last enjoying her favorite subject.
"I love math and I believe that math is not just a subject to study, but a way of thinking that you need for problem solving and to become an everyday thinker," she said. "It is not just to get a good grade."
Coming from a place in which she did not have access to an adequate education, Khaze understands the importance of learning and teaching and is making sure that she can give other people what she was deprived of in Iran.
"I love learning," she said. "I think that education is the only thing that can make a difference and can make this world a better place to live in."
At Flint Hill, Khaze is already making an impression on her students, portraying her zeal for math through every class. Junior Karolena Salmon, a student in Khaze's AP Calculus AB class, is grateful for Khaze.  
"As a teacher and mother-like figure, Mrs. Khaze is a wonderful role model to have as a female student," Salmon said. "She always encourages us to breathe and relax, helping us with anything in her power. She makes it clear that she is always there, supporting us, whether we need math help or someone caring to whom we can talk. We recently learned about her educational history, which is so empowering and such a great reminder that, despite what we are going through or how much we may be struggling in school, we are so lucky that education is allowed and expected. She, intending for us to neither pity nor applaud her, explained her past in Iran and her tenacious fight against the restraints placed on those of the Bahá'í faith. I am truly so lucky to have had Mrs. Khaze as my math teacher this year."
Khaze teaches with the intention to encourage collaboration and a true understanding of mathematics.
"Just appreciate knowledge rather than doing this for other goals [like grades]," she said. "In Iran, we were all collaborating; there was no competition. Here you are forced to compete and I don't like it. [There is an] emphasis on [being academically] self-centered and being more individually directed rather than working to work together and collaborating. [One must] look at the whole thing as a learning opportunity rather than [with] a competitive attitude."
Khaze has found a new home in the United States and hopes that students at Flint Hill truly understand the possibilities and privileges they have here.
"Appreciate your education because not everyone has the same opportunities," she advised.