Week of Thankful Giving Is a Success!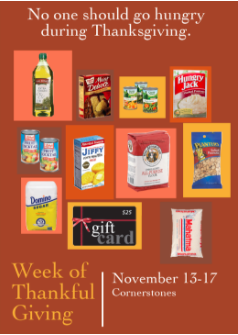 Hang on for a minute...we're trying to find some more stories you might like.
At Flint Hill, both our Upper and Lower School recognize the importance of giving back to the community around us. For many years, Flint Hill has participated in our annual all-school service event, the Week of Thankful Giving. During this event, the Upper School participates by making Thanksgiving boxes for our partner organization, Cornerstones.
"No one should go hungry on Thanksgiving" is Cornerstones' motto for their Thanksgiving Food Drive. For many families in the Northern Virginia area, there are many financial challenges, especially during the holiday season. In Fairfax County alone, there are an estimated 90,000 people that are food insecure, 30,000 of whom are children. Cornerstones' mission is to deliver around 1,000 holiday baskets for families on Thanksgiving.
Cornerstones' Thanksgiving baskets are filled with items that "will provide a hearty Thanksgiving meal for a family." The baskets are filled with foods such as assorted veggies, fruit, rice, and ingredients to make desserts. In addition, each basket includes a $25 gift card, which a family can use to purchase a turkey or other entree for their Thanksgiving meal.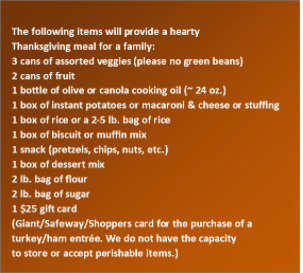 The basket items were collected by participating advisories who each made one basket. After the items were collected, the baskets were inventoried before being sent to Cornerstones. The effort was led by Cami Lamont and Rachel Holland, co-leaders of the service club, with the help of many volunteers. Thanks to help of the Service Club and volunteers, 36 families received Thanksgiving boxes this year.
Linda Okoth, Middle School and Upper School Art Teacher and All-School Service Coordinator, was delighted by Flint Hill's enthusiasm to help the families in need. With the help of gracious volunteers, our Thanksgiving baskets were assembled and sent to Cornerstones a week before Thanksgiving. Our community helped a few dozen families from going hungry on Thanksgiving.  
The success of the Thanksgiving baskets reminds us of the importance of community service.
According to Ms. Okoth, "Community service events are helpful reminders that we all have a role to play in alleviating need in our community, as well as providing an opportunity to alleviate that need."
Thankfully, Flint Hill is making a direct impact on the communities around us: this year, Flint Hill produced 36 out of the 1000 total Thanksgiving boxes that Cornerstone collected.