Parkland Survivors inspire Flint Hill students to engage in their community
On a warm Valentine's Day in sunny Parkland, Florida earlier this year, the lives of more than 3,000 students and faculty members at Marjory Stoneman Douglas High School were forever changed when, at 2:21 p.m., a 19-year-old former student by the name of Nikolas Cruz began firing his .223 caliber AR-15 style rifle into classrooms. 17 people were killed (14 students and three teachers) in what would become the deadliest high school shooting and one of the 10 deadliest mass shootings in recent U.S. history.
This occurrence, though tragic, was neither shocking nor unfamiliar in nature as it was, in fact, the thirtieth mass shooting to occur in 2018 alone. And, to the average American who pays even the slightest attention to the news, the initial media coverage of the event, rather than being horrifying and startling, may have instead (understandably) produced a feeling of numbness – a unique comfortability with the unfathomable that can only come from having witnessed it many times before.
However, this time, the numbness may have been harder to hold onto as, from the cloud of the messages of prayers, condolences, and well-wishes that usually surrounds such events, now emerged a group of young students: survivors who, rather than just grieving, decided instead to turn their pain and anger into a brave call for action.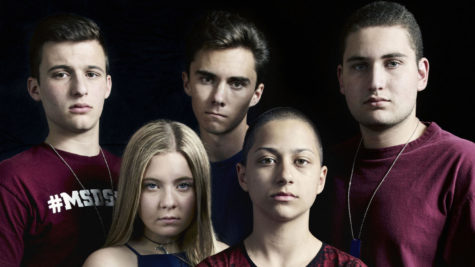 "The people in the government who are voted into power are lying to us, and us kids seem to be the only ones who notice and are prepared to call B.S.," Emma González, 19-year-old Stoneman Douglas senior and activist stated in her now-famous speech three days after the shooting.
With this line, González in many ways sums up the entire idea of the #NeverAgain movement for stricter gun laws that she and several of her classmates have created, a movement created by and for the youth of America. As González states earlier in that speech, the movement is one born of desperation and disillusionment with a government that, in many ways, has failed so many young people who are no longer able to feel safe in school. It is a movement that has come from the victims who now feel forced "to be the change that [they] need to see."
Yet, rather than being a handicap, age has instead become the weapon of these activists, their youth being the source of so much of the empathy that has been shown to them, as well as strength they have displayed. It is what, in a way so paradoxical, has made their loss of innocence so tragic, yet also has given them the fearlessness and boldness to speak out, brazenly and necessarily.
This youth is also what has aided them in using social media to support their cause, as was demonstrated by another key figure and survivor who emerged as an activist after the Parkland shooting, 18-year-old senior, David Hogg. After Fox News host Laura Ingraham attempted to use Hogg's age as a weapon against him in callously commenting on his being denied admission to several colleges, the student called on his Twitter followers to call one of 12 advertisers on Ingraham's show and ask them to boycott. Subsequently, Ingraham lost 18 sponsors before going on a brief vacation and returning to the air on April 9. Her apology following this loss of advertisers was rejected by Hogg.
Still, this is simply one example of the mercilessness with which these teenagers have waged war with their critics and opposers.
"Senator Rubio, it's hard to look at you and not look down the barrel of an AR-15 and not look at Nikolas Cruz, but the point is you're here, and there are some people who are not," another notable student activist and #NeverAgain supporter began his address to Senator Marco Rubio at CNN Town Hall before firmly pressing him on the question of whether or not he would continue to take donations from the National Rifle Association.
It's an unpolished and unabashed movement that is imperfect in many ways. Yet, it almost makes sense that a movement so brash, unapologetic, would come along now, somewhat reflective of the derisive tone often taken in politics since the 2016 election. It is the sincerity that has come with this tactic, which has won over much of the nation to this movement of almost-adults who are anything but fake.
In her speech in Washington D.C., at the "March for Our Lives" that took place on March 24, González stood with tears streaming down her face as she spoke and then stood in silence for six minutes and 20 seconds, around the same amount of time that it took Cruz to kill 17 people at her high school. It was an act so simple, yet so perfectly encapsulating the true weight and importance of this issue. Lives are on the line in this debate: human lives, young human lives.
So, simply unable to see themselves become another statistic in yet another shooting, a group of incredible students stepped forward to fight for what many adults before them could not and, with this, inspired so many others to do the same.
There were more than 200,000 people who attended the march and many more at satellite marches across the nation and world, all brought together by a group of survivors who simply said "enough" and stood steadfastly by that proclamation.
They are supported by others from different racial and socio-economic backgrounds in the south side of Chicago, and they are opposed by some other students who even go to the same school, such as conservative activist Kyle Kashuv.
Still, in either case, they are making the way for others to engage and be heard when that may not have otherwise been possible.
On Friday, April 20, 2018, the twentieth anniversary of the Columbine shooting that forcefully propelled the gun debate into the front of the U.S. consciousness, Flint Hill students organized both a walkout for those who wanted to participate and a discussion for those who instead wanted to consider and learn more about this issue.
"I don't think there has ever been a moment that I have been more proud of my community," says senior and student body president Leyla Ebrahimi, who organised the walkout. "Turning around and seeing so many of my peers marching behind me, marching for something so important, was absolutely riveting."
At the walkout, students from the Middle and Upper School gathered together on the field on the Lower Campus, armed with signs and solidarity, to stay silent for 17 minutes, a minute for each victim of Columbine. On the Upper Campus, a discussion panel was organized by students to represent the voices of those with differing opinions, in order to educate and to answer questions about the issue. Having seen a group of young people stand up for what they believe in the face of the most incredible hardship, the Flint Hill student community felt empowered to take a stand.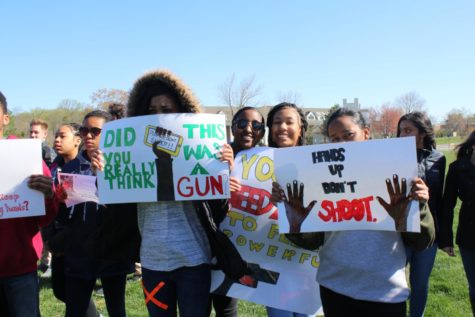 The only question that remains is whether this stand will be "enough," whether these Parkland students have made a difference in the passing of more restrictive gun laws, whether their names are going to be, as González states in her speech, the ones "you read about in textbooks," recorded as more than just statistics.
Unfortunately, only time will tell whether or not the perilous and tenacious efforts of these student activists will lead to actual legislation or change. However, what can be said is that, if success is measured by the ability of one person's actions to promote another, then these Parkland survivors have already won.
They have shaken us from our numbness, inspired us toward consciousness and engagement, and shown us that, with enough passion and persistence, we too may be just as powerful.
*N.B. Below is a list of sources I read when researching this piece that were incredibly interesting to me and that, if you are also interested in this topic, may be worth reading/watching/listening to:
Time Article on the Parkland Survivors
Article from The Atlantic on the Survivors' use of Social Media
A Radio Interview with Emma González from The New Yorker
A New Yorker likening González to Renée Maria Falconetti in Carl Theodor Dreyer's The Passion of Joan of Arc
Video of González's First Speech
New York Times Article Recapping the March for Our Lives