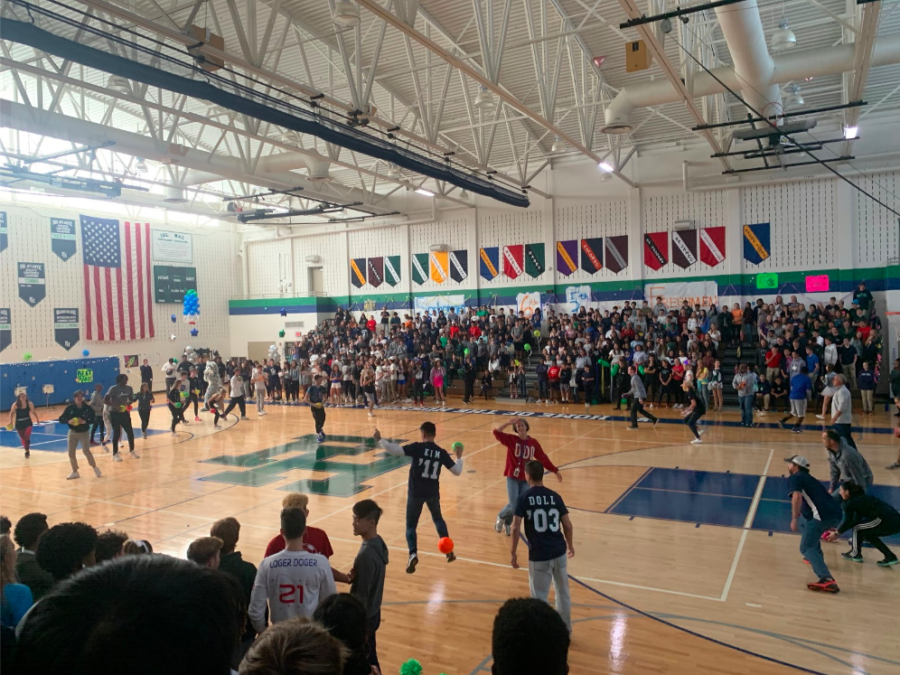 October 15th to October 18th marked Homecoming Week, a fun time when students get to show their school spirit. There was an array of spirit days such as Safari Day, Patriotic Day, Jersey Day, and a space-themed day to wrap it all up. The school also hosted a Junior Advisory Challenge challenge, where advisories posted their best pictures and videos on Padlet, showing off their best spirit. Students from the Lower School and Upper School were encouraged to participate in these events.
Freshman Ana Burka remarked, "I was happy that everyone dressed up and it was great to see the school spirit."
The Pep Rally was the culmination of the week's activities, and it did not disappoint. From the Percussion Ensemble welcoming in all the Lower, Middle and Upper school students to the Athletic Advisory Council doing a bowling ball cheer for all the students, Pep Rally stirred up school spirit and energy among the student body. In addition, the dance team performed a spectacular number that left people in awe with their incredible moves and techniques. The activities and entertainment during the pep rally caused everyone to get on their feet from the student-teacher dodgeball game, where ultimately the teachers won. It came down to senior Cameron Sabet and two teachers, including Upper School Division Director Mr. Reed, to the knockout game. There was even an exciting pop culture reference of a remix of Kylie Jenner singing "Rise and Shine" that made everyone in the audience laugh. 
Sophomore Soliana Yimtatu commented, "It was great to see the school spirit all the students embodied."
Ultimately, the pep rally ended with musical chairs, where it came down to sophomore Hudson Eaton and French Teacher Madame Goldstein. In the end, Hudson Eaton won the game for the students, causing the whole gym to erupt in excitement.
As a participant in the activities, Madame Goldstein exclaimed, "I loved the level of enthusiasm that I saw, but my concern is that there were so many students crowding on the floor that someone could have gotten hurt. Personally, I was fine and I had a great time, but I think that students should stay in the bleachers. I think that would increase the level of enthusiasm because everyone can see and not wonder what is going on."
Spirit Week 2019 was an enjoyable experience that rallied everyone together with school spirit and paved the way for a great Homecoming Day and Dance.