2020 AP Statistics Polling Project
It's presidential primary season. That means pollsters are out in full force trying to predict who supports who without having the time or money talk to every voter. But Americans have developed a healthy skepticism for polling after the highly flawed polling from the 2016 election. This skepticism may be well placed. Many polls are wildly inaccurate.
In order to ensure the results of a poll are accurate, certain criteria must be met: sufficient sample size, random selection, and fairly worded questions. Last quarter, in AP Statistics, Flint Hill students conducted their own polls. First, students learned about the criteria and ethics of surveying. Second, students drafted three or four questions about a subject of their choosing. Students revised the questions to ensure they were not biased so the results were not skewed. Third, instead of simply asking questions to their friends or the first few people they saw at school, students randomly selected one advisory across each grade to survey. Although it was less convenient and even a little awkward, these procedures produced more accurate results. Finally, after the students completed their surveys, they presented their findings in their AP Statistics classes.
A notable survey tracked eating habits, exercise, and sickness in an attempt to find a correlation between the distinct three factors. One group measured social media habits and their effect on time management. Another group asked students which types of french fries they preferred. Regardless of the topic, this project helped students learn how to better gather and interpret information. An immensely useful skill applicable inside and outside of school.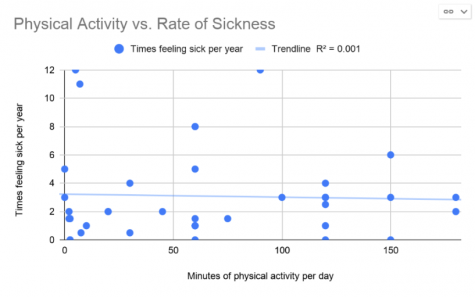 Figure 1
Despite the common belief that eating fast food is bad for you, and exercise and eating healthy improves your health, this group did not come to these conclusions (Figure 1).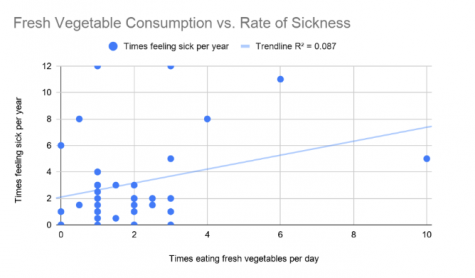 Figure 2
Ironically, there was a positive correlation between eating vegetables and getting sick which means the more vegetables you eat, the more likely you are to get sick (Figure 2).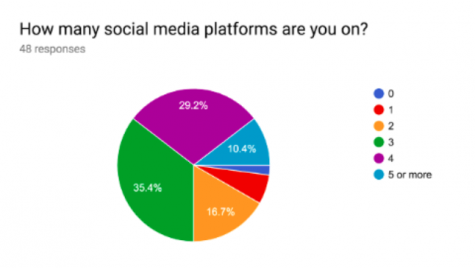 Figure 3
Flint Hill students are very engaged with social media. 47 out of the 48 respondents of this poll had a social media account. On average, students had accounts on three different platforms (Figure 3).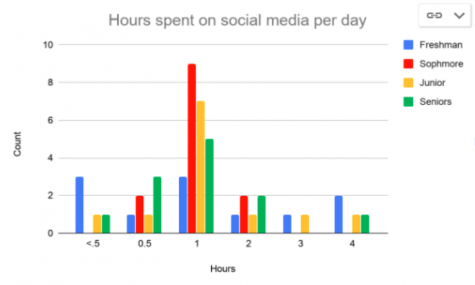 Figure 4
According to the poll, grades spent similar amounts of time on social media (Figure 4). 

Figure 5
According to this poll, students at Flint Hill played fall sports less frequently as they got older. While in 10th grade, almost every student participated in a fall sport, senior year, the majority of students did not play a fall sport (Figure 5).

A similar trend resembled among enjoyment of sports: as students got older, they did not enjoy sports as much. While all tenth graders enjoyed sports, some juniors and seniors rated their enjoyment of sports as a 3 or lower. This makes sense because as students get older, they have more homework and less time to play sports (Figure 6).