Happiness Even on Rainy Days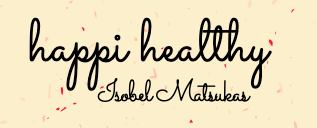 Hello, and welcome back to happihealthy! With the forecast for the next week or so looking a little glum, I thought it'd be the right time to write an article on how to stay "happi" on rainy days. Some people, including myself, love the peaceful sound of rain on the roof and watching the water droplets fall down the window. However, when it's just cloudy, for multiple days in a row, you can start to feel kind of, well, "blah." Therefore, here are some things to do on rainy days to raise up your spirits and to feel "happi" even when the sun isn't shining.
First of all, remember that the sun is still there! There are just some clouds covering it up for the time being.

Get outside! The great outdoors don't mind that it's cloudy. Even if it's raining, splashing in puddles is always a fun activity!

Get creative! Paint a picture or color with colored pencils, crayons, markers, anything to add a little bit of color to a dreary day.

Tackle your junk drawers and choose a few items to cross off of your to-do list. Cleaning and tidying always seem to make me feel cleansed and refreshed. Decluttering your space can also declutter your mind – you might not realize it but when your space is messy, it can add stress to your brain. Cleaning also gives you a sense of accomplishment and a sense of control.

Find a new workout video to follow along with. Get those natural endorphins! There are so many options ranging from yoga and low-impact to HIIT; don't worry if you don't have equipment. A lot of them have bodyweight options!

Make a new playlist or put on one of your favorite tunes and have an at-home concert or dance party!

Curl up with a good book (maybe one that you've always had on your bookshelf but have never had time to read!), try journaling, or write a letter to a friend or family member.

Have a movie marathon day or binge a new show – don't forget the popcorn (air popped popcorn is actually a whole-grain with some antioxidants so it's technically healthy!)

Get cooking and baking; try a new recipe and enjoy your creations!

"Treat yo self" with an at-home spa day! Get creative with DIY masks, mani-pedis, some stress relieving lotion, and candles.

Last but not least, remember that flowers don't grow without some rain!
I hope you can find a few things off this list to try out and alleviate some bored and gloomy feelings you might have accumulated over the next few (forecasted) rainy days!