Upper School robotics program qualifies for local tournament, state championship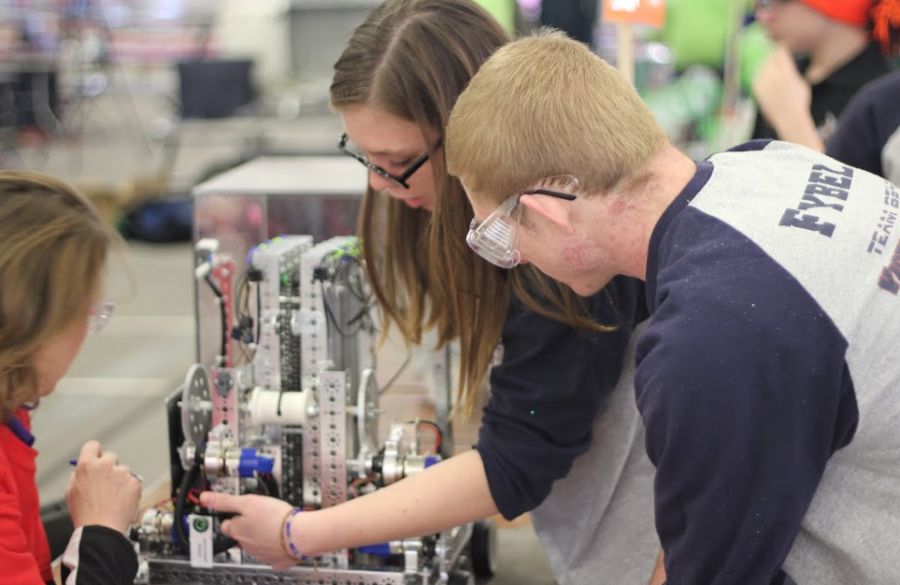 Programming, designing, wiring, and building. For those in the Upper School robotics program, these tasks have become commonplace in the classroom and have enabled students to explore their passions and interests.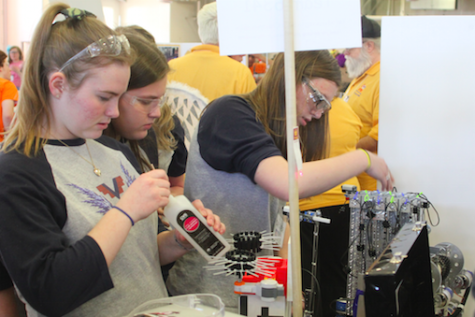 This year, robotics students competed in several tournaments, earning awards and the opportunity to compete against schools throughout the state. At the North Central Virginia Qualifying Tournament on January 31, team 5904 won the Connect Award for superior community outreach while team 6341 took home the Think Award for its detailed description of the design process.
"These events are experiences unlike any other and something you would never expect," said senior and robotics student Charlotte Sadar. "Seeing our hard work and ideas come to life is rewarding in so many ways."
As a result of their placement at the Qualifying Tournament, two teams, 6341 and 6652, were eligible to compete in the Virginia State Championship in Richmond. Additionally, four out of the five Flint Hill teams reached the final round in the tournament.
"Qualifying for states was a huge success for us this year," said Sadar. "Being my first year, it's exciting to attend all of these events. It proves that we're a competitive school for robotics in this area."
At the State Championship, which took place on February 28 at St. Christopher's School, 52 teams competed for 12 spots in the Eastern Super Regionals. Though Flint Hill's teams did not qualify, their showing at the event remains an accomplishment within itself, displaying the continued talent of the participants. However, these successes are only made possible through the hard work and dedication of the students, as well as their teachers.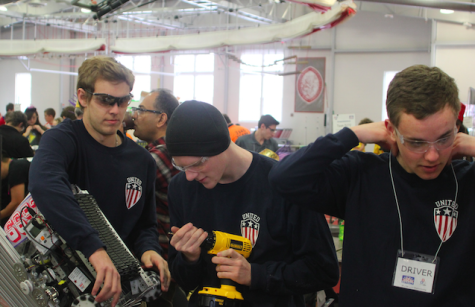 Upper School Computer Science and Robotics Teacher Michael Snyder humbly refused to take most of the credit for his students' accomplishments.
"I act as the sort of facilitator; the students do the work for the robots and I make sure everything's working and just give advice," he said. "Seeing what the students can create is truly the best part of this program."
Upper School Science and Robotics Teacher Alex Lester echoed that sentiment, relating that the students' ownership of the class contributes to the uniqueness of the program.
"Even if there's one problem we're trying to solve, there are many ways to do it and it's great to see the solutions the students come up with and their different ideas," he said.
Working during lunch periods and trekking to school on snow days, the more than 100 students in the robotics and programming courses prepare meticulously throughout the year for the various events, which combine 3D design software, programming, and building.
"It's all about communication and so it's good for some but not all," said senior and robotics student Nick Cerruti. "It's not something for the unmotivated since all of us really want to be here."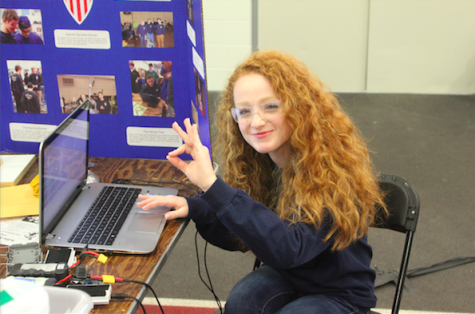 The robotics program, which continues to expand, features several different courses for students of varying levels. In the introductory robotics classes, students learn the basics of constructing and designing robots. By Robotics III however, students participate in collegiate competitions during which an unmanned aerial vehicle, created prior to the events, must complete a 40-minute mission and safely land without any support.
"Each year, the competition is different," said Snyder. "The robots [the students] choose to build are all unique and their creations always amaze me."
Aside from pursuing robotics as an outside activity, other students foresee a potential career in the field and view the various competitions as influential in shaping such a goal.
"These events are really exciting especially because I'm one of the people leading the teams," said junior and robotics student Hailey Scherer. "It's really cool to have that experience since I'm now considering exploring this as a [profession]."
With this program continually expanding, including the recent release of an original app relating to network security, students are able to further their accomplishments each year and look forward to continued success.