This year's Spirit Week and Pep Rally were 'lit'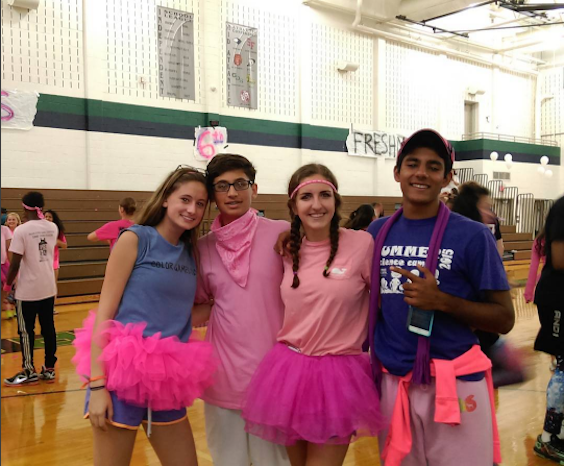 Students walk up the pathway to school on a breezy fall morning. It is Monday, and many tired faces display the realization that, rather than being at home in their warm and comfy beds, they are at school, about to start a brand-new week. They wonder whether or not they will be able to make it through this week as they force themselves towards the school entrance. But then, nearing the top of the hill that leads to the school, they begin to hear music. They see enthusiastic students handing out candy, all dressed in red, white, and blue; and, for the first time, they think, 'maybe I will be able to make it through this week.'
This was the scene on the morning of Monday, October 17, the first spirit day organized by Flint Hill's Athletic Advisory Council (AAC) of a five-day-long Spirit Week, which would culminate in Homecoming weekend (October 21 – October 22). This day's theme was "America Day," and students were encouraged to display their patriotism by boldly sporting the colors of the United States flag.
Of course, there are many reasons why the AAC organizes Spirit Week and a pep rally, the most obvious being both a community and an American tradition. More importantly, however, Flint Hill celebrates Spirit Week because it brings us together. It gives the members of the Flint Hill community a chance to display spirit and build pride for the school even before the weekend begins.
"I thought [Homecoming] was really fun because it's a good time for everyone, not just the kids," said sophomore Claudia Wood . "All of the families and the faculty get to enjoy it [as well], especially the bonfire and the stuff before [the] homecoming [dance]. I feel like it's a good way for everyone to be involved, not just the students."
Throughout the week, students, teachers, and other members of Flint Hill's staff were encouraged to demonstrate their school pride in a sequence of creatively themed days. After "America Day," the rest of the week played out with "Tie Dye" Tuesday, "Husky Pride" Wednesday, Pajama Thursday, and Galaxy Friday, a day for which each grade was assigned a different color of the galaxy (Freshmen: White, Sophomores: Pink/Purple, Juniors: Blue, and Seniors: Black/Silver/Galaxy).
Overall, it was an eventful week, as many put tremendous effort into expressing themselves through various vibrant, colorful, and unique clothing choices. However, as with any school event, there were some who felt that a fews ways of the week could have been better.
For one, many students felt that having an "America Day" may not have been the best and most inclusive choice.
"A lot of students [said] that they were less than pleased with 'America Day,'" said senior and SCA president, Sonia Schmidt. "One, because America is a continent [and], also, because they thought [the theme] might have been disrespectful to the people who didn't necessarily identify as being from America or from the United States if they were international students. [Also], because the whole idea of patriotism is kind of in flux right now, especially in the political climate of our nation…anything politically themed can tend to be contentious. So, people [felt that] maybe [we should] steer clear from something that's going to be argued over so often."
In addition, there were many students and teachers who felt that the timing of this spirit week could have been better, as it not only fell on the final full week of quarter, but also on the date of the PSAT as well.
"Homecoming doesn't land on the same exact weekend every year. So, it doesn't always come so close to the end of the quarter," said Upper School English Teacher and Junior Class Dean Maia Schmidt. "So, [for example], I heard kids today, saying, 'I'm taking a test, and so I'm wearing comfortable clothes, but I'm really not hyped up.' So, I wish that we could have them [spirit week and the end of the quarter] a week apart, either the week after or a week sooner, just from an ideal standpoint."
Finally, there was the slight controversy over the traditional dog houses that each Upper School class customarily paints every year for homecoming. Many students did not understand why, this year, rather than practicing this pastime, they were instead tasked with making class banners.
Schmidt explained that much of the reason for this was the fact that the dog houses used in previous years had begun to rot and that the Flint Hill facilities staff, already bogged down with providing the school with new chairs, felt that the task of rebuilding these houses might not be made a priority, especially believing that students may not fully appreciate the task either way.
However, in the end, despite all of these mixed feelings, it is still true that, for the most part, the week held up its purpose of generating Husky pride among the student body. This was especially evident in the annual pep rally.
It was here that the senior leaders of Flint Hill yelled into mics, jammed to some Drake interludes, and evoked cheers from the audience with jokes and videos packed with memes (and even Jim Bour, Director of Facilities and Risk Management). It was here that senior Nicolas Bloom won a dance contest with a perfectly timed dab, and a sixth-grader beat out every high schooler he went up against in a water bottle flipping contest, proudly holding up a finger to show that he was #1.
It was here that Middle School Technology and Integration Specialist and Computer Science and Robotics Teacher, Samuel Moser, took an impressive final stand against a mob of teens in dodgeball. Here, after a long and fruitful week, everyone showed how "hype" they could truly be.
Thanks to the Athletic Advisory Council, this year's spirit week gave everyone in our community, young and old, the chance to show their Husky pride.