A time for kindness, pride, and love: it's Ally Week
Rainbows, rainbows, rainbows everywhere!
The week of September 25-29, otherwise known as Ally Week, is a week in which the Flint Hill community shows our support for the LGBTQ+ community by donning the colors of the rainbow, participating in discussions about allyship, and demonstrating our solidarity as a community.
Julia Finkelstein, Flint Hill GSA (Gender Sexuality Alliance) co-president and senior (pronouns: she/they/their), explained that this is a fun and important annual event that allows Husky faculty and staff to be creative and festive in supporting a community that can sometimes be overlooked.
"During Ally Week, it's one of the most uplifting things to see so many people showing their colors," said Finkelstein. "Just walking through the halls and seeing that people care  means a lot."
Of course, strutting in different colors of the rainbow every day is an incredibly enjoyable and amusing activity, especially given the timing of this year's ally celebration being just around the stressful mid-quarter mark.
Still, it is important to recognize the reason we continue to have an Ally Week at Flint Hill and the incredible significance and impact that it has on the people within the community. Flint Hill continues to celebrate Ally Week for those who identify as neither straight nor cisgender and thus may not feel comfortable being who they truly are in many aspects of their lives.
"I think that it is important that we show our support as a community for those members of our community who might feel disenfranchised or picked on or looked at strangely," said Tracy Peterson, Upper School English Teacher and Diversity & Inclusion Coordinator as well as GSA co-sponsor (Pronouns: she/her/hers).  "I think that it's really important for us to rise up as a community and say 'you are part of us,' 'we are more the same than we are different.' And, I think it's important for those of us who do not identify as LGBTQ, I think it's important for the people who might be nervous around those issues or around that topic…for those folks to see us as allies, standing up and saying 'we should all be proud of who we are.'"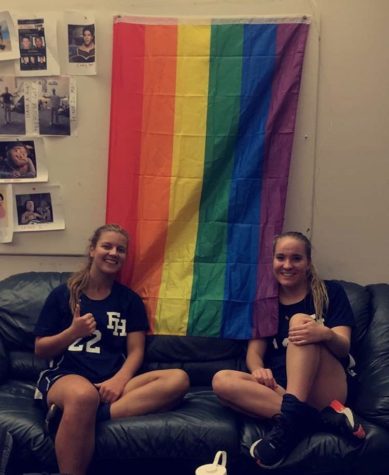 Of course, not everyone at Flint Hill feels comfortable participating in Ally Week. This may be partially due to the current political climate in which we are living.
However, Finkelstein encouraged students and faculty possibly on the fence about participating to consider the experiences of people within the LGBTQ+ community.
"I think it's important to remind [someone who is on the fence about identifying as an ally]…of the significant difficulties that LGBTQ members of the community face," said Finkelstein. "I mean, even if it does not affect that person directly, to think about their peers and their teachers, their administrators, just people who are surrounding them every single day and the difficulty [these people] might have with things that that person might find easy."
Overall, the leaders of the GSA encouraged the members of the Flint Hill community to consider their participation in Ally Week as an act of kindness, similar to the mentality that the SCA (Student Council Association) is actively promoting through its "Be Kind" campaign.
"Participation is an act of kindness; participation is an act of empathy; participation is an act of acceptance and love," said Peterson. "And it's saying 'I am the way I am' and 'you are the way you are' and both of those things are acceptable and great."