An insight into Flint Hill's stalwart security
Hang on for a minute...we're trying to find some more stories you might like.
On the night of October 1, 2017, gunman Stephen Paddock opened fire on a concert crowd at the Route 91 Harvest Music Festival in Las Vegas, Nevada, from the 32nd floor of a nearby hotel. Described as the deadliest mass shooting in the U.S. to date, the tragic shooting left 58 people dead and over 500 injured.
James Bour, Director of Security at Flint Hill, states that these tragic events stand as a reminder to stay vigilant.  "If a student or staff member sees something, they should report it," said Bour.
In the aftermath of the heartbreaking attack, security is tightening across America in hopes to prevent additional tragedies from occurring. For example, the New York Police Department, the nation's largest, has dispatched counterterrorist units to strategic locations. In addition, the CEO of Marriott International has spoken out, saying that the company is employing airport-like security measures in high risk areas. 
With security being such a relevant issue at the present time, it is important for Flint Hill students to take a moment to be grateful for the safety of our community. Fairfax County is known for its security, with strict gun laws and a strikingly low crime rate that is steadily decreasing each year.
In particular, Flint Hill prioritizes the safety of its students above all and has many distinct security measures in place around the school. While many are kept confidential, others are a routine part of most student and staff's daily schedule which are constantly working to keep us safe.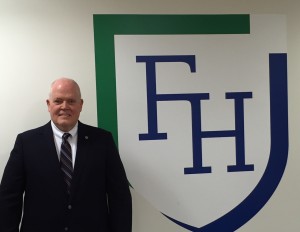 Bour said, "In our community, we are fortunate to stay in touch with the local police, and we are constantly communicating with the local station." This is observed through the police standing and directing traffic in front of the school every morning.
In addition, students may not leave the building without signing out, and no one is allowed into the building without a viable reason, such as an appointment. The doors are locked during the day and are monitored with security cameras in order to assure the school's safety.
The security team at Flint Hill works to be proactive and to stay aware of any potential issues to prevent crimes before they happen. The focus for the school is the student's safety above all, and creating a safe educational environment.
Cameras located in and around the school help monitor any potential issues that may come up. In addition, fire, ALICE, and severe weather drills are practiced regularly, with fire drills once a month after the first two in the first month of the year and periodic ALICE and severe weather drills throughout the year. Safety procedures may never have to be used, but the security team wants its students and staff to know that practicing is important should an issue ever come up.
In the aftermath of tragedies, the Flint Hill community should give to those who need our help, and, above all, we should appreciate that we can live and learn safely and securely. Because of the school's active security team, we as students are able to go throughout our days without the worry of an attack. We should be appreciative of what we have and use the resources at our disposal to help those who have been harmed because they did not have access to security measures such as Flint Hill's.