Homecoming Festivities & Spirit Week 2017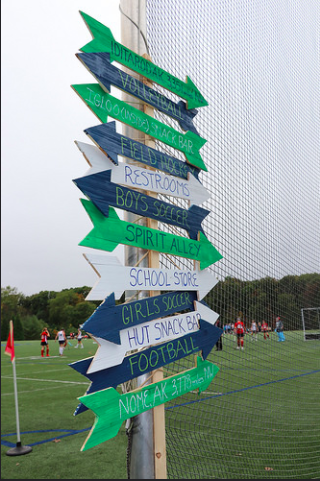 By Avi Lamba, Staff Writer
November 2, 2017
Hang on for a minute...we're trying to find some more stories you might like.
Spirit Week marked a period of great excitement and team building for the students of Flint Hill. Throughout the week of October 9 through 14, there were many themes on display throughout the Lower, Middle, and Upper School buildings. A flurry of colorful activities invaded the school in support of themes such as Color Day, Jersey Day, Generations Day, and Tropical Day. Students from all grades in the Upper School participated in these festivities.
Freshman Molly Finlay commented, "All the days of the week were great, but the one I enjoyed the most was Generation's Day." When asked to explain, she responded, "It was a creative idea for the school. It was really fun to dress up in a onesie."
The Middle School and Upper School had a much awaited pep rally on the final day of Spirit Week. Families got involved in the celebration too, many coming out to watch the Powderpuff Game and watching the bonfire. Spirit Week facilitated camaraderie, communication, and team work, and was a perfect start to the much awaited Homecoming Day!
On Homecoming Day, everyone was ecstatic due to the abundance of events happening in the school. Students, faculty, and parents walked around with face paint and spirit wear during the day. Food and beverage stands were run by committed volunteering parents who helped make sure everything operated smoothly. It was a victorious day for the school, as the Boys Soccer, Girls Soccer, and Football Varsity teams all took commanding wins over their opponents.
Senior Peter Tojsl on the Boys Varsity Soccer team talked about the homecoming game.,
"The homecoming game was great! I almost scored…overall it was a great experience, said Tojsl.. "The school did really well with giving us a lot of leeway between the games and dance, with athletes like myself needing a break after a sweaty game." Tojsl Peter continueds to talk about the other games., "It's great to watch girls soccer to see how they move on and off the ball. It's like watching Barcelona tiki-taka, maybe even better!"
There were many fun activities at school on the day of Homecoming, which ended with the Homecoming Dance.
Many students prepared for days for the dance, one of the most exciting moments of the year. Different social groups also used this event as a reason to get together before and after the dance. This year's Homecoming was definitely a success, and we are looking forward to another exciting and creative celebration next year.