National Museum of African American History and Culture trip inspires Flint Hill student leaders
African American history serves as a prime example of sparking change within difficult communities to benefit the world as a whole, specifically regarding an oppressed race. People like Malcolm X, Martin Luther King Jr., W.E.B. DuBois, and Rosa Parks have all done incredible things to improve the inclusivity and justness of our country by risking their lives each and every day. Although Flint Hill School students do not endanger their lives at school, there are several leadership groups within our own school that, every week, discuss ways to make our student body and environment more inclusive, more aligned with our beliefs, and more exciting. Through learning from the work of the most famous people in African American history on their trip, our student leaders became more effective advocates for the student body as well as more successful in their pursuits to improve our school.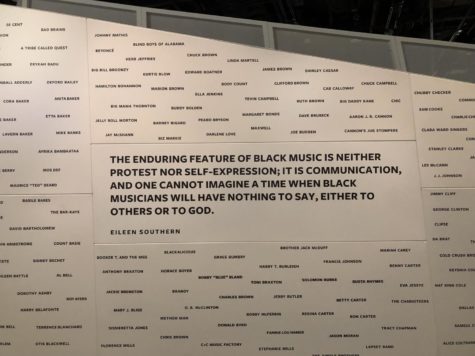 On November 13, leaders within the SCA, AAC, ILC, Peer Counselors, Ambassadors, and Honor Council spent the majority of the day visiting the National Museum of African American History and Culture. These groups had never done a collective trip like this before, so this new experience was an opportunity to see whether or not such trips could have a positive impact on the leaders of our school.
The students attending the trip left shortly after the day began and thoroughly explored the first few floors of the museum for the remainder of the school day.
Senior Kamryn Olds was mesmerized by the exhibits at the museum.
"[The trip] was really incredible. Not only was the building beautiful, but also packed with so much history and evidence of the accomplishments and struggles of African Americans", said Olds.
The trip left a big impact on Olds' outlook of her own life and place in society: "It really woke me up and made me remember just how much we, as people living in the United States, still have to sit down and discuss [pressing issues in our community]…I think that having this experience may have helped to make me a better leader."
Junior Shiv Lamba enjoyed the trip very much as well, but felt like improvements could be made in the future to have a better experience for the group as a whole. "I thought that [although we lost] a day of school, it is worth learning about the history of the country that we live in. I think that [the trip should improve]; however, it depends on the school's budget," said Lamba.
In terms of what specifically Lamba would liked to have seen during the trip, he said that "[the trip] was exactly what [he] had expected and hoped to see."
Olds' believed that "even though [the student leaders] were gone all day, it still didn't seem like enough since [those who went on the trip] were not able to tour the whole museum" and that "more students, especially those who are in any way interested or are unofficially leading at Flint Hill [should be allowed to attend the trip]."