Students address pressing issue in gender culture forum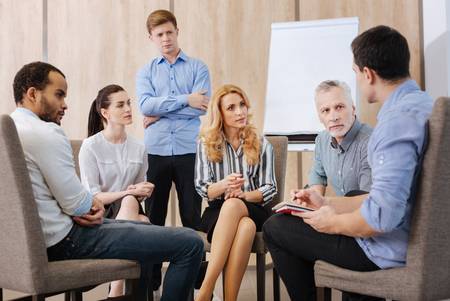 Hang on for a minute...we're trying to find some more stories you might like.
The forum on gender culture at Flint Hill, which took place on October 3rd, was led by seniors Jack Magner, Hannah Zobair, and Trenaj Mongo. The goal of the forum was to share opinions on how people are treated based on gender, and to discuss what exactly defines sexual harassment. The forum started with the question: "Has anyone heard comments about gender that has been particularly concerning?" which prompted an hour-long discussion of harassment (both verbal and physical) and consent.
The majority of those who attended were seniors, with the exception of some underclassmen. Members of the Counseling Department and Administration attended, most notably Mr. Thomas and Mr. Reed, who stayed for nearly the entire forum. Throughout the meeting, the three student leaders did a good job of facilitating discussion. The idea was to not get too political, but it was inevitable considering current events. Instances of sexual harassment and discrimination in the news were discussed, but the three student leaders shifted the attention back to the atmosphere at Flint Hill School. Though there were a few opposing viewpoints on instances in the news, everyone came to the agreement that sexual harassment is something that needs to be discussed and steps need to be taken in order for people to care about cultivating an atmosphere of respect. The conversation should not be men versus women, but rather everyone against sexual assault.
The large number of faculty that came to the forum provided an excellent opportunity for students to share their ideas on prevention. Senior Sameer Baheti mentioned a statistic from the SCA that reported an alarming majority of students who have experienced verbal or sexual harassment. There was mention of making this statistic public in order for people to see that this is an issue that needs to be addressed. There was also mention of Town Meeting presentations and class speakers, similar to Human Sexuality Week.
After listening to students' opinions, Mr. Reed explained the school's policy and his understanding of the discussion: "I'm hearing that we need to do more as an institution. The school keeps things on a confidential level and it is more difficult to label the consequences." It was also brought up that it is mandatory for teachers to report to the counselors if they hear instances of sexual harassment among students.
The relationship between appearance and harassment was discussed, and the school's dress code policy was mentioned. There was an agreement of less "sexualization" for student dress code, and less blame for how people look. Juniors Morgan Starnes and Simon Van Der Weide recently led a forum on the dress code at Flint Hill. Their idea is to come up with a more gender-neutral dress code:
"If someone who is assigned male at birth doesn't identify that way, they don't have room in the dress code to express how they feel," said Starnes. "Clothing can be a good way for people to feel valid in themselves and to feel good, and when you don't have options it's a big problem."
"We don't need to have gender in the dress code because it's making the assumption that there are only two genders," added Van Der Weide. "People at this school sometimes fall outside of those two genders and then are forced to wear clothes that they don't want to."
Clothing and beliefs aside, everyone came to an agreement that an atmosphere of respect needs to be cultivated. One discussion won't fix all issues, but it's a step towards progress:
"It's a start," said Mongo. "We're definitely not done yet, and this has to be a conversation that needs to be talked about, even after [the seniors] graduate."
No one wants sexual harassment, but the student leaders had hoped to get more diversity in the opinions present at the meeting.
"I hoped there would be more people from opposing viewpoints and more grades, but it felt good to have it talked about. Especially with Mr. Reed coming in–this helped to get more people aware," Zobair said.
"It revealed that a lot of issues we tend to take a side on," agreed Magner. "There's always room for more opinions."
In essence, the forum was a way for students to share their ideas on the steps that need to be taken in order to prevent harassment. As a result of this conversation, a new opportunity was introduced to students: attend the Summit on Sexual Assault and Consent on November 17th in Georgetown Day School. In addition, the senior class is being encouraged to lead more forums about topics that the student body is passionate about. The goal of all these forums is to improve our community and to work towards a more inclusive and respectful atmosphere. History teacher Mr. Nathan Green, who was present at the meeting, encourages continuing the conversation:
"Good first steps, keep moving. It's good to hear from all the people who are against sexual harassment."