Many authors visit Flint Hill for annual Writers Day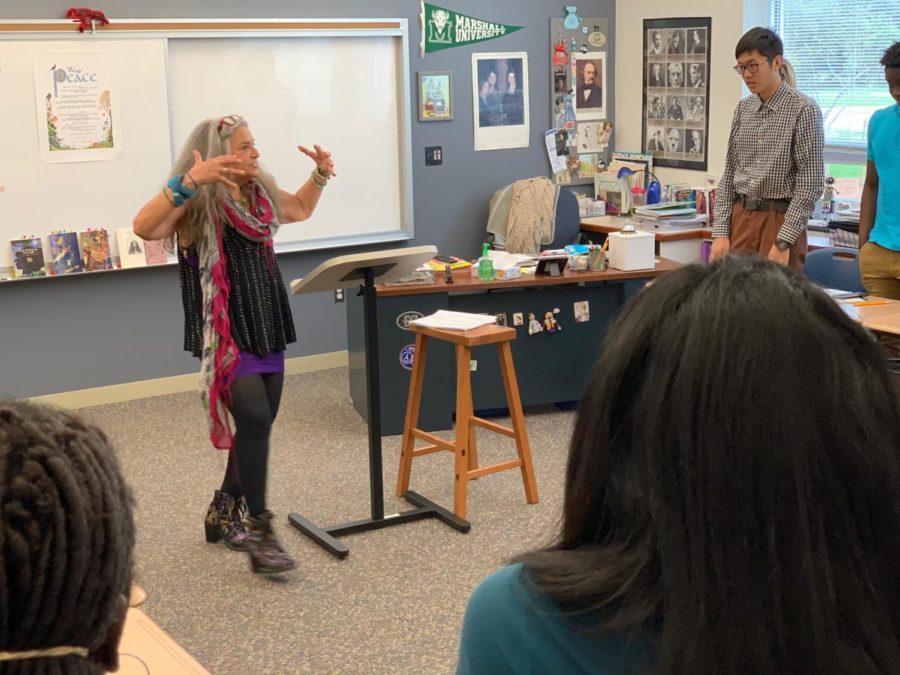 On April 18, the entire Flint Hill Upper School participated in its annual Writer's Day, which celebrates writing in its many forms. Guest writers were invited from the genres of poetry, adult fiction, science writing, and many more to share how they use their method of writing to communicate an idea to their audiences. John Copenhaver, English Department Chair, organized the event, and he concluded that Writer's Day, in its essence, is "a day for the entire Upper School to come together and discuss the importance of writing in all of our lives." Additionally, Copenhaver said that it was a day used to inspire students and future writers by giving them exposure to all of the different ways you can write.
Writer's Day began with a panel of six writers that was broadcasted to all of the advisories. However, the main event consisted of three different sessions where students went to visit two writers in separate sessions and participated in an activity in a third session. Students were offered a wide variety of writers to choose from, and each writer offered students something different.
monét cooper, Upper School English Teacher, taught sessions about poetry in all of its forms. In particular, the students in cooper's sessions examined a poem by Sofia Elhillo, where ultimately, the goal was for the students to consider what meanings are present in the poem.
In stark contrast to poetry, Zack Krug, Science Department Chair and Upper School Science Teacher, gave his writers session on science writing. Krug talked about his experience as a professional researcher for 6 years at the University of Chicago and explained the process of getting research published in professional journals.
Riki Weeks, Upper School Math Teacher and Junior Class Dean, broke down the roots of hip-hop culture and revealed what he called his "second career" as a songwriter and rapper. Weeks and his students analyzed a few verses, talked about verse structure, the recording process, and what goes into making visual accompaniments such as logos and track art, and music videos.
When the writers were asked what they love most about writing, their replies were as diverse as the genres of writing they talked about. Copenhaver said, "I love the way I can mold language to create rich and complex stories and characters. It's thrilling and frustrating and deeply satisfying."
cooper insists that all forms of writing, "whether it's a mystery novel, an investigative piece of journalism, a poem about one's identity, a film or art critique, or just a Tweet, writing can and does move us all the time."
Krug is so passionate about research because he loves the reward of working on one problem for such a long time. He said, "When it is in press and you know other professional scientists are reading it and citing it, it is a great feeling to know that you have influenced the field."
The thing Weeks loves most about writing "is the power to be able to write one thing but have it lead to several meanings." He says when it comes to writing, enjoyment is one of the most important things for a writer to focus on.