Students Kick Off the Year with Fun Activities
Welcome Back!
Another exciting Flint Hill school year began on Monday, August 26 with the freshmen and seniors participating in On-Campus Field Studies. The Class of 2020 worked with our freshmen Class of 2023 to make them feel welcome and comfortable in their new school. Each class participated in advisory activities such as "What Animal Would You Be?" and Pictionary as well as ending the day with tug of war and Klondike bars. 
On Tuesday, the seniors and freshmen were off-campus at Calleva Field Studies. The sophomores and juniors joined the community with On-Campus Orientation to learn the norms of the school and changes made for the year. One of the changes this year included a change in the Honor Board: instead of just signing to our core value of Honesty, the Honor Board is now a commitment to all four of our core values of respect, responsibility, honesty, and compassion. As Avishka Boppudi said in her SCA President speech at the All School Gathering on September 16th, if you need a way to remember the Core Values, think "Holy Cow, Rico Reed!" 
On Wednesday, the seniors got a day off to prepare for the year, warding off some Senioritis which is on the horizon. The juniors participated in The Amazing Race and sophomores had Advisory Team Building Activities at Calleva Field Studies while the freshmen had On-Campus Orientation.
On Thursday, August 29, the 2019-2020 school year began with the SCA welcome team out front, ramping up our school spirit with posters reading phrases such as "Honk if you love Flint Hill" and "Welcome to the Tundra." Thursday started our six day rotating schedule as an A-Day, and Friday was a B-Day kicking us off to a fun-filled Labor Day Weekend to enjoy the last hoorah of summer.
Below are reports on some of the events during the first week of school written by members of each class and compiled together and edited by Isobel Matsukas.
Freshmen Field Studies
By:  Nicholas Matsukas
Freshman field studies was a lot of fun.  We went on rope courses, zip lines and learned about the people in our advisory.  We all built friendships and bonded over the challenges and obstacles. As a freshman, this really helped us learn about all of the students who are in our grade.  I enjoyed Calleva and am excited to go back.
Sophomore Field Studies
By:  Jeanne Marie Greathouse
The Sophomore field studies were surprisingly better than expected and it was truly really fun to get to know my advisory and my class, as a whole. We went to a ropes course that required complicated solutions for obstacles in the air and on the ground. My favorite part was a see-saw-like obstacle that our whole group had to cross because it made us rely on each other to be able to cross it without either side touching the ground. Sophomore Field Studies definitely helped our advisory bond and become a cohesive unit to support one another.
Junior Field Studies
By:  Isobel Matsukas
The junior class started the day in the gym with the sophomores and both class deans, Mr. Shepard (sophomores) and Mr. Weeks (juniors). Mr. Shepard had us compete in sophomores vs. juniors Rock, Paper, Scissors and we won! We then boarded the Calleva buses and began our day with The Amazing Race! We split up into teams of four within each advisory and participated in team-building challenges. It is called the Amazing Race because it is a competition due to the race in between each activity, how many activities your team can complete, and how quickly your advisory team finishes. The Andino Advisory won the overall best time for The Amazing Race, and a member of the Andino advisory, Bela Aguilar said, "The amazing race was, for a lack of a better word, an all-around amazing experience. We came in wanting to win, but even despite that my group still had a really fun time no matter how well we were doing working together and looking completely ridiculous at the same time. Our advisory winning was just the cherry on top to a really fun day." For the individual teams, Jessica Jarratt, Megan Ramsey, Caroline Rich, and Chris Ulman came in first place, representing the Bock advisory. Caroline Rich said she enjoyed "the energy my group had." A team from the Carroll advisory came in second place and an Andino team in third. There was even a teacher team representing the faculty with Mr. Uher, Mr. Andino, Mr. Weeks, and Ms. Jones which came in fourth place.  
After a fun-filled day of getting muddy, sweaty, and laughing with my advisory, we boarded the buses back to Flint Hill, ready to start an incredible junior year.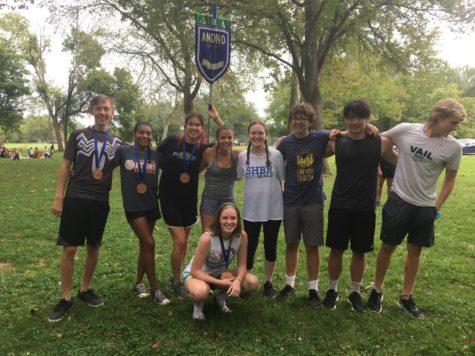 Photo Credit:  Riki Weeks
Senior Field Studies
By:  Ericka Link
Coming to Flint Hill my senior year was a really big change. I was nervous and skeptical of making new friends, with friend groups already formed for years, and fitting into a whole new state's "norms." But the transition at Flint Hill with all of my peers, administration, and teachers made it so smooth. One of the first things I did with Flint Hill was Calleva. Seniors at Calleva created sleds which they raced against other advisories. This activity incorporated our mascot and symbolism of the Husky dog sled races. My group decided to let the girls create the sign logo and painting while the guys did more of the engineering, but we all came up with ideas together. It was all a team effort, and in the end, we got second place! The teamwork, competitiveness, excitement, and adventure it held made me excited for the start of the school year and it was an amazing experience to be a part of. 
Senior Sunrise
By:  Kristina Tojsl
Senior Sunrise was a great way to start senior year. Though the 5 am wake up was brutal, seeing my friends and watching the sunrise made it all worth it. Even though the clouds blocked the sun, we still marveled in the beauty and we all felt excited as we watched the sunrise on our last first day at Flint Hill. Some were cozy in sweatshirts and sweatpants, while others wore their first day of school outfits, but we all felt like one community basking in the beauty of nature. I really liked seeing all of my friends and then heading out to grab a quick breakfast before returning back to school and starting our first day as seniors. The senior sunrise really got everyone excited for this memorable year and I know I'm excited to experience some firsts and experience some things for the last time.