First Open Mic of the Year is a Great Success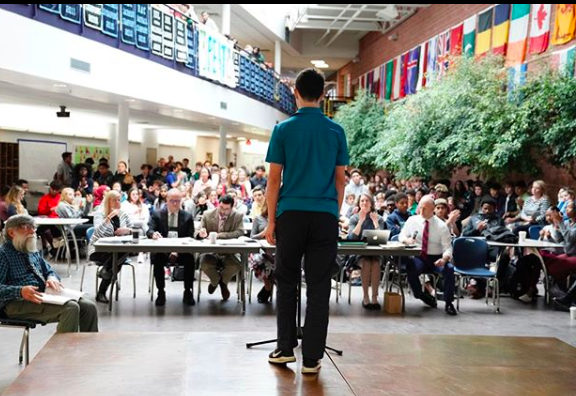 By Isobel Matsukas and Avi Lamba, Co-Editor in Chief and Section Editor
November 20, 2019
Flint Hill had its first Open Mic of the year on October 23rd. Open Mic is an event in which students or teachers voluntarily perform an act in front of the school to showcase their talents. In this event, the performers attracted a great amount of support from the school community, and viewers loved the acts executed by their peers. Senior Jake Berkowitz kicked off the event with a stand-up comedy performance.
Berkowitz made a variety of jokes about many different things in his life. One of the highlights of his performance was how he joked about playing volleyball as a man with other girls. He had a successful performance, as students could not stop smiling through his act! Berkowitz has performed stand up comedy at Open Mics in previous years, and the result has never been any different than this one. He embraced laughter from his peers, and he had a great time at Open Mic once again.
The second performer was freshman Brigit Cook, who sang "Perfect" by Ed Sheeran. She rocked Flint Hill with an exceptional voice and great passion, and the crowd really enjoyed this song. In fact, many students began to clap along with the beat and even held up flashlights on their phones because they were so engaged. Cook walked out of her performance with a smile on her face and carried on the widespread excitement at this event.
Finally, Riki Weeks, Upper School Math Teacher, wrapped up Open Mic by rapping a verse. Although there was no beat backing his performance, Mr. Weeks excited the entire student body by talking about how he raps to gain a voice in society. However, this was not his last performance of the day. Mr. Weeks would later perform in the Poetry Open Mic.
Immediately after Open Mic in the Commons, Flint Hill held its first Poetry Open Mic in the Learning Commons. Mr. Weeks, freshman Thurston Davis, and sophomore Zoe Bredesen were a few of the participants and did extremely well. Bredesen took it a step further and recited Banana, one of her own created poems (Banana is posted on The View under Features).
The Poetry Open Mic followed Poetry Out Loud, which is a schoolwide poetry competition in front of a panel of judges, with the winner being able to move on to a public competition with schools from the area. It is also a fun way for students to express themselves and continue their education about poetry outside of the traditional classroom setting. Congratulations to freshman Aria Qi who placed first in the Flint Hill competition and to sophomore Isaac Grossman for placing second.
Together, these Open Mics help students express themselves and pursue their passions. The student body and faculty hope to see another Open Mic or Poetry Open Mic soon, as they are always a highlight at Flint Hill.