Holiday Shoppes Kick Off the Holiday Season at Flint Hill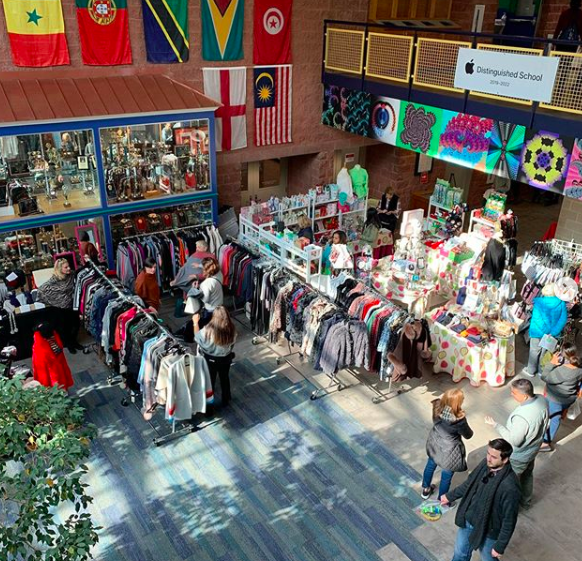 By Abi Baker, Contributer
November 20, 2019
The holiday season is in full swing after the annual Holiday Shoppes took place in the Upper School. After strategic planning, extravagant decorations, and the help of the Parents' Association, the commons of Flint Hill were transformed into a winter wonderland. 
Debbie Wesley, Amanda Norton, Claudia Augustine, and Karen Sparks spearheaded the event, and Karen Sparks said that they "worked as a team to transform the school into a holiday theme. Every year we challenge ourselves to make it a bigger and better event." 
 Upon arrival, there was a kettle corn vendor outside the school and nutcrackers lining the entryway. The popular school store was accompanied by 30 other businesses and boutiques selling a range of items including clothing, accessories, kitchenware, candles, and food. 
Headmaster John Thomas complimented the atmosphere, saying "It is the amazing decorations that always transform the Upper School. And let's not forget all the incredible vendors who all help get us in the holiday spirit. I love the fact that some of the vendors are Flint Hill parents, alumni, former faculty and staff, and other great folks in our community. It is a very, very special day."   
A unique addition to this year's event was Best Buns, a local bakery, who sold their food from inside the Igloo. For the first time, this gave customers a variety of baked goods and beverages while shopping. Each year new stores are added to the selection; this year Onward Reservoir was one of them, mixed in with old favorites such as Barbie B and Preppy Pink Pony.   
 When contributing to the businesses at the Holiday Shoppes, you are also helping the Flint Hill community. A fraction of each vendor's sales go into the Parents' Association Endowment. This provides financial aid for prospective students applying to Flint Hill and current members of our community. It is very special to know that you can benefit your family and other families by attending the event.       
 Above the shoppers was the Kids' Section where members of the Classics Club hosted kids while their parents shopped. This area was filled with coloring supplies, movies, snacks, and games, which made for the perfect afternoon.
This one-day event brings young and old members of Flint Hill together. It is not uncommon to see future Huskies there as well. 
Sophomore Ali Metz has been at Flint Hill for years and said she "made it a tradition between my mom and me to go to the shops. It is such a fun way to start the holidays." 
Headmaster John Thomas expressed his enjoyment of attending the event every year, saying "I have always enjoyed being able to take part in the Holiday Shoppes while being able to watch our Girls' Volleyball Team play for the state title."
 After yet another successful Holiday Shoppes, our school is gradually accepting the cold weather into their lives. Thanks to the tireless efforts put into the event, it was an incredible way to start the holiday season.