Flint Hill Dancers Meet Lindsi Dec '99, Principal Dancer with Pacific Northwest Ballet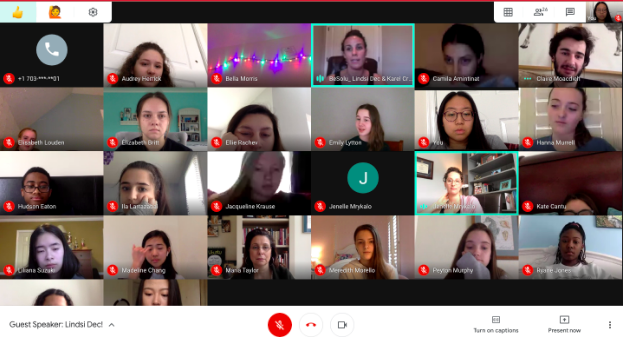 By Erica Kim, Co-Editor in Chief
May 21, 2020
On April 24th, Flint Hill dancers had the incredible opportunity to speak with Lindsi Dec, a Flint Hill Class of 1999 alum and a Principal Dancer with Pacific Northwest Ballet. 
A late bloomer in the ballet community, Dec started her ballet career at age 14 and started her training as a Professional Division student at PNB soon after she graduated Flint Hill. As she reminisced on her time at Flint Hill, Dec shocked student dancers when she mentioned that there was no school dance program when she attended. Thus, she had to balance school work and her intensive training at a competition studio in Clinton, Md. every day. Dec was excited to see how the Flint Hill dance program has developed throughout past years and discuss not only the program's ballet and jazz performances but also connect with students and with Upper School Dance Teacher Jenelle Mrykalo through their shared passion for dance.
In the short period of class time, Dec openly shared her story as a dancer and mother and willingly gave dancers advice on improving dance techniques, considering the route of professional dance, and, most importantly, becoming a better person every day.
While students eagerly listened in on Dec's pointers for enhancing turn outs and posture as a dancer and advice for auditions, perhaps what they took away the most from the meeting is how to mentally fortify oneself to combat any challenge and accomplish any goal in life. 
Attesting to her journey as an insecure young dancer who acquired the position she is in today by committing to endless hours of training with mentors, Dec demonstrated that any craft, any idea, and any ambition, no matter the magnitude, can be and will be perfected with perseverance, patience, and wholehearted dedication.
Watching Dec's genuine, affectionate responses galvanize students, Mrs. Mrykalo remarked, "It was wonderful to have Lindsi Dec meet with the dance department. We were so lucky for her to take the time out of her busy schedule to chat with us."
Having experienced and witnessed the competitive nature of the dance world herself, Mrs. Mrkyalo shared how she was moved by Dec's demanding, yet rewarding, experiences as a dancer: "As someone who has reached the top of an incredibly competitive field, she had much to share about her journey including her current life in quarantine. Lindsi gave us a unique view of the professional ballet world. She talked about coming to ballet later in life and working twice as hard to get to where she is as a dancer."
As do all the dancers, Mrs. Mrykalo expresses her gratitude for this chance to speak with the admired alum. "I loved hearing her talk about getting nervous before performances and helping the students see that all artists are human! Lindsi is an inspiration for all of us and I know this opportunity will not be forgotten!," she said.
Indeed, this special moment will not be forgotten in the Flint Hill community.  We, the Huskies, sincerely thank you, Mrs. Dec, for your time and insight. We hope to see you soon!
For additional reading, check out Mrs. Lindsi Dec's profile and performances on the Pacific Northwest Ballet's website at https://www.pnb.org/artist/lindsi-dec/.