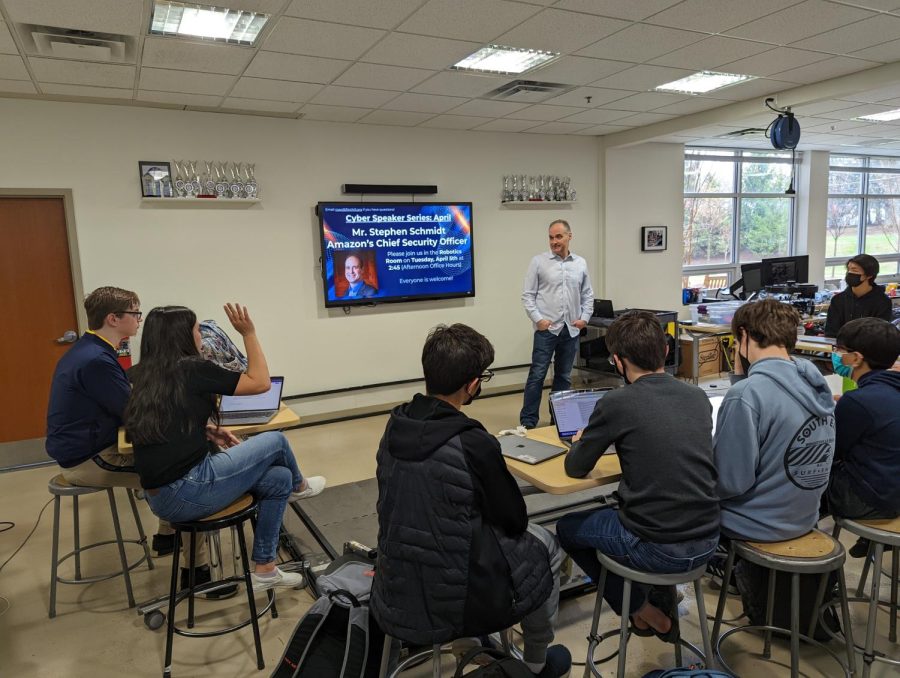 True to the core values of Flint Hill, the Innovations Department has allowed me to blaze my own trail. Since coming to Flint Hill as an eighth-grader, I have benefitted firsthand from the freedom given to me by the Innovations Department to pursue my interests. That encouragement was what inspired the Cyber Speaker Series. 
The world of cybersecurity is diverse, as are the people, opportunities, and jobs. Anyone, no matter their background, level of education, or personality, can find a place in the field of cyber. When I launched the Cyber Speaker Series at Flint Hill, my goal was to demonstrate the wide variety of paths students can take to pursue a career in cybersecurity. Subject to common misconceptions about cybersecurity, many people believe that cybersecurity is just for techies and involves sitting in front of a computer coding all day long. While you can be a techie and program all day, there are various other paths that don't involve coding or a lot of technical work. Cybersecurity is about people and the connections we make. It is ingrained and involved in everything we do, from communicating through our cell phones, filling up at the gas station, managing money online, and protecting national security. That is why I made it my goal to show people that those misconceptions can cloud our views of the cyber field and push us away from a whole world of opportunities that are overwhelmingly available to us. 
The Cyber Speaker Series kicked off in November of 2021. Mr. Chris DeRusha, the current Federal Chief Information Security Officer of the Executive Office of the President of the United States and the Deputy National Cyber Director, was our inaugural speaker, and most recently, Mr. Stephen Schmidt, the Chief Security Officer of Amazon, concluded it. Having come from both the public and private sectors, they both stressed that the most important thing in either sector, and in cybersecurity in general, is to be curious and persistent. Additionally, we were honored to be joined by Ms. Emily Mossburg, the Global Cyber Leader of Deloitte, Mr. Richard and Ms. Amy Bejtlich, the Chief Security Strategist at Fire Eye and the manager of the Threat Intelligence Engineering team at Amazon Web Services respectively, and Mr. Josh Mason, the cyber club's trusted mentor, a cybersecurity training developer, and a Red Team Instructor at INE. Each of these speakers was able to share their experience and knowledge with the club. Having all come from different educational backgrounds and different occupations, they were able to connect with all members of the club. What particularly resonated with me were the reactions and impact the speaker series had on the club and its members. I especially loved when students who had not considered going into cybersecurity before, now considered it a possibility due to what they learned and heard from the speakers. Some members have even chosen to develop personal relationships with these individuals and begin to develop a professional network. The Cyber Speaker Series brought our club and school community together. It also inspired new ideas and will continue to motivate us to do and learn even more next year. 
Our club is grateful to Upper School Computer Science and Robotics Teacher Mr. Snyder, our teacher advisor and creator of the cyber club, for his leadership, inspiration, and expertise. His commitment to us, and to me personally, has allowed the club and me to reach new heights. I have never been more excited about a new school year at Flint Hill than I am right now. With the successes of the Cyber Speaker Series and the club as a whole, I cannot wait to see what we do next year.