Respect for the Arts at Flint Hill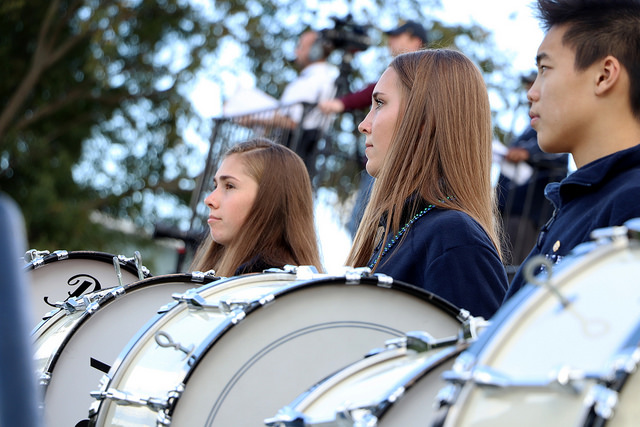 By Alexandra Wai, Managing Editor
March 4, 2019
The level of enthusiasm for the arts has improved—at least in my opinion. More students are coming to events like "The Nutcracker" and Empty Bowls, but this enthusiasm is mostly led by the senior class. This makes me wonder—will it continue to improve after the seniors graduate?
I like to think it will—that is why I want to address some misconceptions about the art program. I've heard them frequently, and they're not conducive for inspiring enthusiasm in the student body. Unfortunately, there hasn't been a forum to discuss these points with a larger group, so this View article will have to suffice for now:
You can't get awards for theater/the arts like you do with sports.
There is a program called the Cappies, which is a group of high school students that go around critiquing other school's productions. Each school chooses a show to be their "Cappies show," and the critics write their reviews. If an aspect of the production sits well with the critics, it can be nominated for different types of awards: best lead actress in a musical, best set for a play, etc. Flint Hill has their own Cappies group—the group isn't highly advertised, but it exists.
Also, Flint Hill has the Fine Arts Awards at the end of the year. That's another way you can get awards.
Art isn't the same as sports.
There are similarities between the two: teamwork and collaboration. It takes teamwork to put on a production, it takes teamwork to put on a showcase for graphic design, studio art, ceramics—it takes teamwork to put on band concerts, choir concerts, orchestra concerts, percussion concerts. So why are we still talking about the two as if they are alien to one another? Why does it feel as if one is more of a priority? I'm not suggesting we force basketball players to be in the next musical (hello High School Musical), but I am suggesting we recognize the value of arts and sports as having equal importance in shaping our personalities.
And lastly, perhaps the most frustrating excuse of them all:
Nobody cares.
I know it's impossible to force people to care, that is why I'm not going to. Caring is an individual experience, one which I hope to influence, but understand I cannot completely control. This year, I started coming to more sports-related things—something I didn't do during the last three years of high school. The reason? I had categorized high school sports in my mind as something that did not concern me. I regret not doing so and I wish I had more of an open mind because, as it turns out, sports are fun to watch. So, if the idea of admiring art or theater doesn't initially appeal to you, I ask you try it out—who knows, maybe you'll enjoy yourself.
Another point that was brought up was the time commitment of sports. I'm no stranger to the discipline it takes to train for a sport—I skated competitively for seven years (and while that's not the same thing as basketball or football, it's a still a sport that requires training and hard work). I'm not suggesting that we cut back on sports—the reason we're good is because of the commitment athletes make to their teams. However, the system of athletic credit needs some revision. I came into high school thinking you can get athletic credits for theater. You can't. It's been suggested that school productions count towards athletic credit. There are students who feel more comfortable onstage than on the field, and receiving athletic credit for doing what they love isn't a horrible idea. Heck, why stop at theater? If students receive athletic credit for spending time on graphic design, ceramics, studio art, etc., they'd be doing what they love, and maybe be inspired to participate in competitions and earn recognition for themselves and the school.
I know I'm just a student sharing my opinion, and that these ideas aren't achievable overnight. But what is achievable is basic respect towards the arts, and towards things in general. Please be respectful when the GSA introduces Ally Week. Please be respectful when the BSU shares a presentation highlighting conversations that need to happen. And please be respectful when students make announcements for fall plays, winter one-acts, graphic design showcases, Empty Bowls events…even if you could care less, there are people who have put time and effort into making these things happen. So stop yourself before your next rude outburst during Town Meeting and have an open mind—instead of labelling things as "unimportant," try seeing other perspectives.