The Stress Effect on Teachers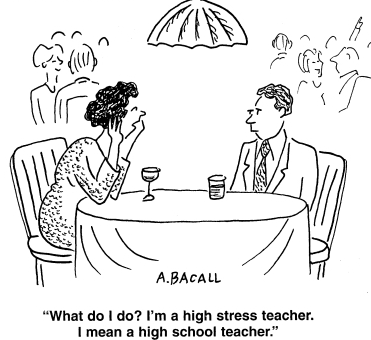 Hang on for a minute...we're trying to find some more stories you might like.
As the school year goes by, it can quickly begin to take a toll on the mind of any individual. For students, constant assignments, tests, and extracurriculars combine to form persistent challenges for juggling different tasks.
While student stress is a well-known problem in high schools, teacher stress is almost completely overshadowed.
"We teachers have similar stresses," says Mr. Ken Andino, Upper School Classics Teacher. "We're expected to plan for all of our classes, prepare materials, grade assessments, all while being the sponsors of clubs and having additional duties and meetings. For us, that's on top of trying to run a household and make sure that our kids are being successful."
Compared to the stress that teachers experience, students' stress levels actually seem low. Throughout the school year, a teacher has to deal with creating assignments, quizzes, projects, and tests. In most cases, the problems of a teacher greatly outweigh those of a student, as a teacher is left to carefully grade the quizzes, tests and projects of every student in his or her class, which, when the average class size is usually fifteen students, takes an incredibly large amount of time.
"What gives me stress is hurrying," says Ms. Tracy Peterson, Upper School English Teacher. "I absolutely hate to hurry, so I try to put myself in situations where I don't have to hurry to complete a task. Because we all have so much going on, inevitably, I have to rush around to finish things, and that makes me crazy."
Additionally, the stress and possible burnout that a student goes through can further increase that of a teacher. When pulling statistics from a recent report in late 2016, it can be found that 46% of teachers report high daily stress, which compromises their health, sleep, quality of life, and teaching performance. What many students don't seem to focus on is the fact that while their own situation may be stressful, a teacher's stress is equally surmounting, so, instead of remaining unmindful, students should become more aware of the situation into which their teachers are placed.
It is not right for the students of Flint Hill, a group expected to honor the school's four core values of respect, honesty, responsibility, and compassion, to not also be empathetic of those who put in so much effort to give us an education. Although it is human nature to focus on one's own problems, it is still important to realize the trouble that the teachers of Flint Hill go through to keep their classes afloat.