Juniors prepare for the college admissions process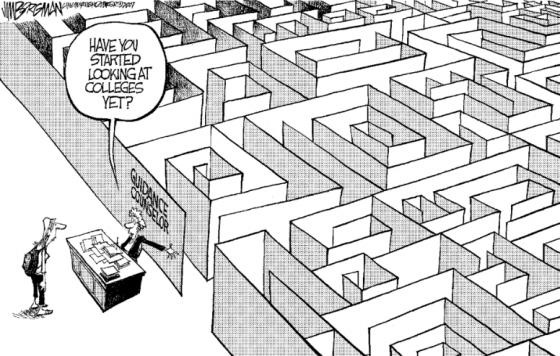 Hang on for a minute...we're trying to find some more stories you might like.
Although many juniors would not like to admit it, college admissions are starting to become a more prevalent part of our lives. From narrowing down lists of colleges to raising SAT scores and GPAs, there is absolutely no way to avoid coming face-to-face with an adult or underclassman who asks you where you plan on spending the next four years of your life. Thankfully, Flint Hill has prepared its Upper School students significantly for the brunt of the process by involving us in relaxed yet informative College Counseling sessions since freshman year. However, many questions still remained in my head until April 5, the day of the Junior College Conference.
On that day, representatives from Elon, Clemson, and William and Mary showed us what the college admissions process looks like from the standpoint of the admissions committee. Students, adorned in professional clothing, eagerly grabbed their backpacks and headed to the Learning Commons to begin the day's events at 8:00 am. Sorted into four even groups, the students dove into different activities for the day, from lectures on the Common Application with their college counselors to mock admissions activities with representatives from Clemson and William and Mary. Counselors gave several important points of advice from starting applications in the summer to liking every single college on our list, regardless of where or how we may rank them. Although I felt that the day itself was informative for the most part, I took to my classmates to uncover their true feelings about the conference.
"I found the college conference to be very helpful. My favorite part was when we got to pretend to read the applications of students and decide whether or not to accept them into our university," said junior Kathleen Boyce.
Junior Mardy Kramer echoed Boyce's statement.
"I feel very prepared for [the college admissions process] because now I know [what] schools are looking for, and how they make their decisions," said Kramer.
Rather than focusing on what colleges are looking for, Boyce learned an important lesson about staying true to herself while completing her applications next year through her experiences at the College Conference.
"The admissions officers really emphasized that we should be ourselves instead of putting what we think colleges want to see on our application, and [that] was refreshing to hear," said Boyce.
Junior Rachel Hall, however, didn't feel that the conference was a completely positive experience, especially the activity with the Elon representative, in which every person in the room had to share their major, list of colleges, and college visits in front of the whole room.
"I really liked the college essay portion of [the conference] because before I honestly had no idea what to write about [for my Common App essay], but now I have a pretty clear idea of what [the task] entails. I didn't really like the part where we had to share out our college list with everyone because it didn't really help me in any way," said Hall.
Junior Lily Lindquist also felt that there were several ups and downs throughout the day.
"While some parts of the experience were beneficial to my understanding of the college process, there [were a lot of points introduced] that felt repetitive. The planned activities felt over-structured and therefore lackluster. Having the opportunity to [engage in] group discussions with the [admissions] counselors really brought out people's questions and helped answer them", said Lindquist.
Although students had varying opinions about the experience, it is safe to say that each participant came out of the day knowing more about their path towards college and what it takes to earn acceptance to any college that they set their sights on. Although a demanding senior year and several applications lie ahead of each of us, thanks to our preparation, it should, hopefully, be a breeze.