Flint Hill hosts eleventh annual volleyball invitational
Subtitle: A preview of what to expect from this year's varsity team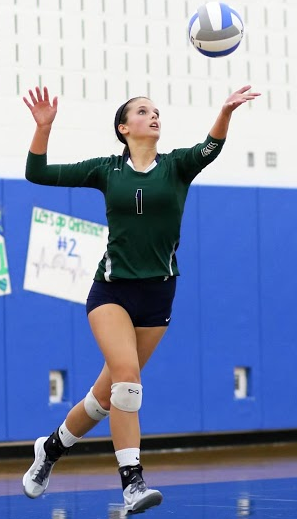 On Friday, September 25 and Saturday, September 26, players from some of the most elite Virginia private school volleyball teams competed in a series of matches that Flint Hill hosted. Though forced to compete with three of its players out due either to injury or illness, the Husky varsity team was highly successful on Friday with a record of 3-0. Yet Saturday's semi-finals proved to be more of a challenge. Despite starting off strong in its first set with a score of 25-11 against Middleburg Academy, the team was unable to keep the streak, losing the final set 15-12.
Organized by Upper School Learning Specialist Matt Philipp, this invitational has been in existence since 2005, when the volleyball program was just beginning to achieve success. Over the past eleven years, the team has seen many ups and downs, but has continued to thrive and improve. This year in particular, the team was hit hard by the graduation of eight seniors. However, it also has experienced a sort of rebirth as many new and younger athletes have provided the team with rejuvenated vigor and hope for the future.
"We've been in this situation before," said Carrol DeNure, sports information director and head varsity girls volleyball coach. "Back in 2010, we went 33 and 0 and [then] graduated several seniors. The next year we took our lumps along the way and it was a growing time, but we still competed for conference and state championships. Then, the following year [and for three straight years] we were able to win the state championship."
It is very possible that history will repeat itself as this year's team– though young with three sophomores and four freshmen– continues to grow and thrive, full of talent, excitement, and positive attitudes.
"Playing in the invitational is [lots of fun] and… competitive because my team is able to play against some good competition," said Hana Lee, sophomore player who officially joined varsity this season after being a floater on last year's team. "At the end of the day, I am very tired and sore, but it comes from putting in hard work and leaving everything on the court."
Morgan McKnight, one of the several seniors who aims to help the underclassmen, has played on the team since she came to Flint Hill in her sophomore year and stands out as a leader not only on the court (an honorary mention of the 2014 Fall All-Met teams), but also off it through her experience and positivity.
"I would say we had a good invitational," said McKnight. "We were 3-1 for the tournament and played good volleyball for most of it. We definitely grew from that tournament and will learn from our mistakes."
Being that Flint Hill's varsity team is highly respected and observed within the Northern Virginia area, one of their many goals is to defend its title as state champion. However, DeNure assured that this year is not about the team's record, but about the growth in confidence of its athletes.
"Even though we lost eight seniors, we're still playing the same tough [public and private] schools," she said.. "We want to maintain that level of competitiveness because I think it's just going to make us better…not only this year, but in two or three years to come. So, in terms of our record, I think we could have done better, but we're not solely focused on wins and losses this year, but learning how to compete, play with energy, [and] be more consistent on the court."
Leave a Comment