Huskies Dominate Homecoming Games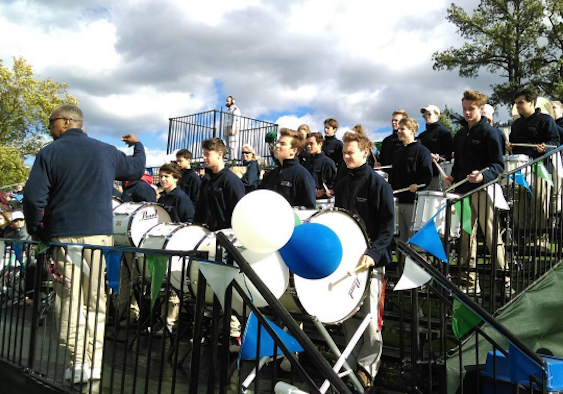 By Shiv Lamba, Co-Sports Editor
October 26, 2016
Homecoming is a time full of excitement and passion. It is an annual tradition when students  participate in Spirit Week, homecoming proposals, dressing up, dinner, dancing, and after parties; all helping contribute to this amazing experience.
However, what makes this event even more memorable is experiencing Flint Hill's camaraderie by coming out to support or participating in one of the many sports events on Homecoming day. Although not all of our sports teams were victorious, the excitement surrounding our sports teams was unforgettable.  
Varsity Field Hockey was the first homecoming sport event. They played Paul VI School at 9 am and emerged triumphant, winning 2-0.
Senior Isabel Rice-Martorell's said, "[My one wish was] for our team is to play well, have fun, and get a win in my last Homecoming."
The team worked together to fulfill this goal making the team's, as well as Isabel's, Homecoming memorable.
Varsity Volleyball followed shortly after Varsity Field Hockey. The girls suited up to play Trinity Christian High School at 10 am.
With the stakes high, junior Carly Middleton understood the ramifications of the matchup.
"It would be a huge deal if we lost," said Middleton.  "Our team has been improving every day, and when we saw Trinity a few weeks ago at our FH Invitational Tournament, they [Trinity] looked very beatable."
The Huskies defeated Trinity High School, winning all three sets.
Middleton said, "This win really sets us [Varsity Volleyball team] up nicely for the beginning of the postseason. We need as much momentum and confidence as we can gather as we enter these next few weeks. This game is a huge confidence booster."
Varsity Girls Soccer was also victorious, defeating Woodrow Wilson High School 2-0.
Prior to the game, sophomore Lauren Tanner was more than confident that her team would win.
"I know we will win because we [the Girls Varsity Soccer team] are a strong team when we play together and work hard," said the sophomore.
Her trust in her team paid off as they strutted off the field with their heads held high.
"This win was great for our confidence as a team" said Tanner.
Now, Flint Hill Girls Soccer is ready for whatever comes their way.
Unfortunately, Flint Hill's sports teams endured their first and only loss following the final whistle of the Boys Varsity Soccer game. They were defeated 3-0. Though it was disappointing, the team did not let this faze them. As recent Mid Atlantic Conference (MAC) winners, the Boys Soccer team kept their heads held high ready to make amends in the games to come.
Varsity Football suited up for the final Homecoming game of the day against Saint James School. This game was arguably the most intense. Senior Matthew Stottlemeyer was aware that Saint James was going to be a tough opponent.
"We never know how the game will turn out but we were hoping for a big win against a solid Saint James team," said Stottlemeyer.
As expected, Saint James School came out hot, taking the lead 21-7 at the half; however, the Huskies did not quit. In the end, they defeated Saint James in overtime 41-35, improving their record to 6-1.
"Winning this game really boosts our team through the rest of the season because it would be one game closer to winning a MAC title, which is a goal of our team," said Stottlemeyer.