Jasmine Helmer swims to success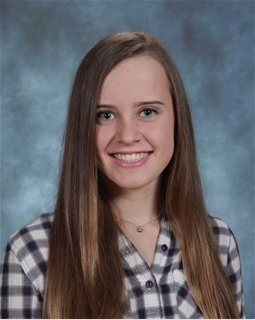 By Shiv Lamba, Co-Sports Editor
February 8, 2017
"Take your mark… beep." This is the overture to another victory for junior Jasmine Hellmer.
Hellmer, who was born in Glenview, Illinois in October of 1999, has always been an all-star athlete; she grew up playing travel soccer, swimming, basketball and volleyball. She started competitive swimming when she was just eight years old. Currently, she swims for Nation's Capital Swim Club.
Recently, Hellmer was given the opportunity to participate in the Olympic Trials.
The junior said, "Going to Olympic Trials was a surreal and humbling experience; being able to compete alongside Olympians and the best swimmers in the country was an honor. I would love to go back and experience the whole week over again."
Although many people know Hellmer as the "Olympic swimmer," they forget the hard work it took her to get to this point. She swims eight times a week. She has two practices on Monday and Friday for three hours and fifteen minutes each day. Hellmer has one practice each day the rest of the week, including a three hour practice on Sunday. All in all, she is in the pool for over twenty hours a week.
Her work ethic and success could have never become a reality without her persistence.
"I faced many instances of self-doubt when it came to achieving my Olympic Trial cut, but my persistence is definitely what has helped me get this far into competitive swimming," Hellmer said. "The physical and mental intensity that it requires to train every day, or multiple times a day, coincides with persistence, and helps push me past obstacles."
One main source of struggle is asthma, a condition in which a person's airways become narrow, swollen, and inflamed. Yet, she is not letting it slow her down. Instead, it has made her stronger and tougher.
"[Asthma] is a horrible thing to have as a swimmer because we constantly have to hold our breath," Hellmer said. "Asthma has definitely helped me toughen up a bit, since every day I am constantly having trouble breathing, but it's just another obstacle that's in the way of my aspirations, and I don't plan on letting it affect [them]."
Hellmer also credits her parents and coaches for helping her get to where she is in the sport. Jasmine says, "I couldn't be more appreciative."
Although Jasmine has not committed to a college yet, her expectations are high as she sets her eyes on University of North Carolina at Chapel Hill, Northwestern University, University of Notre Dame, and many more.
Getting to this point is an accomplishment in and of itself, but staying at the top is even more difficult. Jasmine is a persistent and strong swimmer, and seeing as she continues to conquer any sharks in her way, expect to see her continuing to make waves.