Huskies continue performing well in spring sports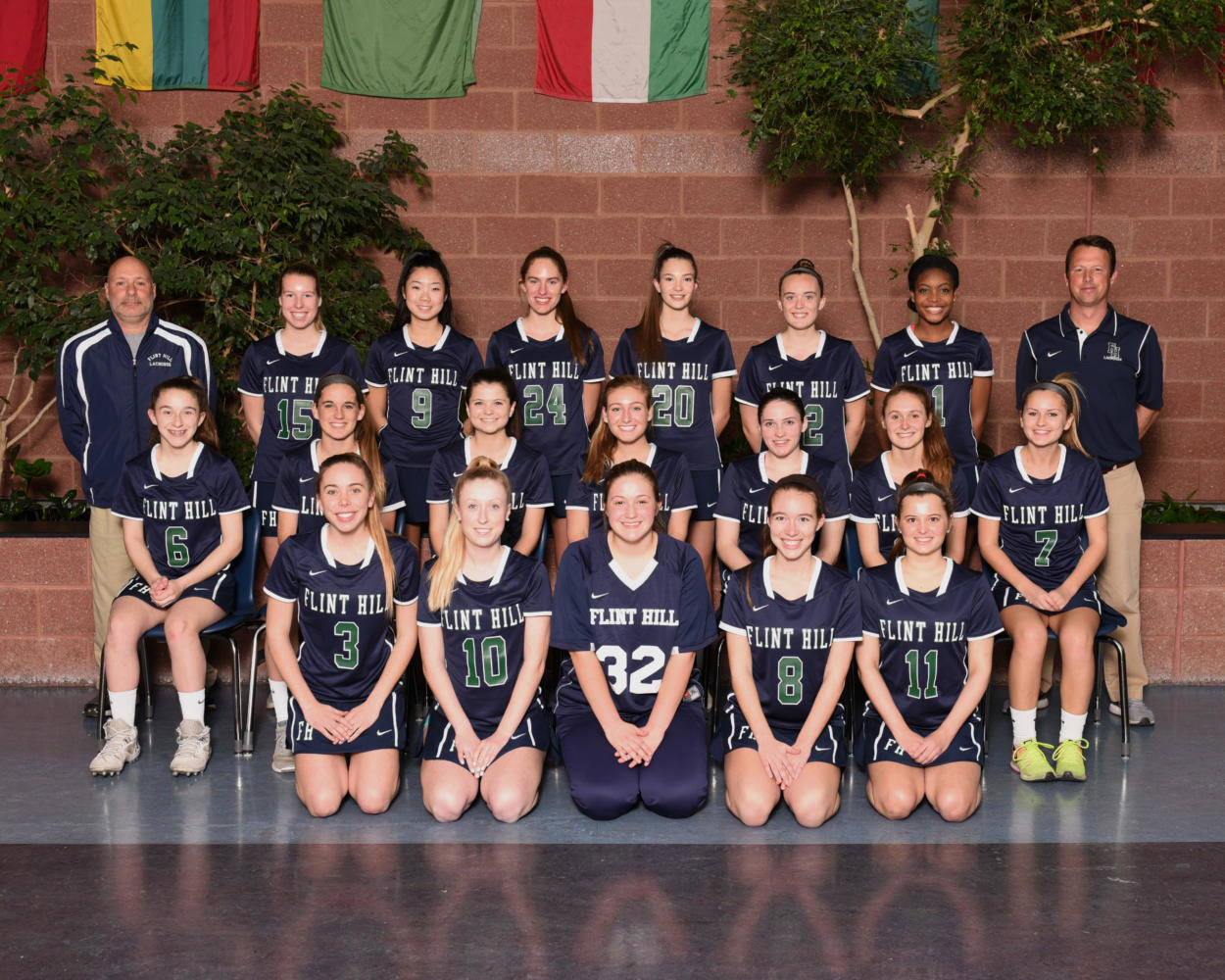 By Shiv Lamba, Sports Editor
April 26, 2017
Flint Hill's athletic teams are halfway through the spring sports season, and they refuse to back down. With big games left in the season for each sports team, this is not the time to take the foot off the gas pedal or transition to the second half of the season at a slower pace. It is time to accelerate and end the season with a bang by leaving a strong legacy in Flint Hill's spring sports program.
Flint Hill varsity softball has an overall record of 8-0 and a league record of 3-0. Though it may seem like a cakewalk for the varsity softball program, this is far from the reality.
Sophomore outfielder Ar'riyauna Fleming describes the game that almost broke their undefeated record.
"Our most intense game was against Georgetown Visitation Preparatory School," she said. "They had really good hitters and two of them are committed to Maryland. It was the bottom of the sixth, there were two outs, there was a person on first and third, and we were up by one. It was one of their biggest hitters who has been hitting the ball really far. When she hit it, I ran back one way, then I turned the other way, and then I jumped and caught the ball and we won the game."
Wins like these have helped the varsity softball team create stronger bonds and chemistry amongst one another, helping form a stronger team altogether.
"Being together and winning together are when we are having the most fun," said Fleming.
With Flint Hill's varsity softball program having one of the best years in history, the team must treat every game like a playoff in an effort to remain undefeated, win the ISL, and win States, (which would involve beating formidable rival Bishop O'Connell), and become the best varsity softball team in Flint Hill history.
Though Flint Hill varsity baseball has not experienced the same success as the varsity softball team, they have still entered the midseason with an impressive 6-5 overall record and 3-3 league record.
During their journey to a winning record, they faced many obstacles. However, their win against Maret, the most intense game of the season according to catcher and sophomore Tucker Mitchell, helped spur a 5-game win streak.
"We started off down by at least four runs and didn't come out with 100% energy," he said. "We really turned it around and started hitting and scoring some runs, and we ended up coming back and getting the [win]. It was a team effort and we really worked together to make it happen."
With the hard work and effort the varsity baseball team has been putting in, results will come.
"We come out everyday and bring intensity to practice and to the games and look to get better," Mitchell said.
Though the ultimate prize is taking home the MAC and state championship, Mitchell and the baseball team does not prioritize any one game more than the other.
"We try to treat every game like it's the state championship, and really come out and do our best," Mitchell said. "The only team that can hold us back is ourselves."
Varsity Girls Lacrosse currently has 4-8 overall record with a 3-5 league record. Though the record may not indicate it, their attitude and team play on the field shows a dedicated and relentless team. The team demonstrated this against Potomac on April 8th.
"We were supposed to be blown out by them, but we went into overtime with them and only lost by one," said sophomore and midfielder Alexia Lee.
With the team's positive attitude and their league record, there is no reason why Varsity Girls Lacrosse can not be named the girls lacrosse ISL 2016-2017 champions. Like always, this will come with effort and determination, something that never lacks in Flint Hill's athletic teams.
"As the team's chemistry grows on our bus rides to away games, I have no doubt we will have a winning record in the second half of the season," Lee said.
Boys Varsity Tennis has an overall record of 4-5 and a 2-1 league record. Senior and Citadel commit Arnav Boppudi is already missing the team.
"We are probably the most [close-knit] team I have ever had at Flint Hill," said Boppudi.
Though Boppudi is already committed to play in college, his passion for the Flint Hill tennis program's progress has not diminished.
When asked about the most intense game of the season thus far, he excitedly stated, "Our most intense match was against Maret. We pulled it off 4-3 with Adam Hillman and Ameer Rezazad [winning]. They came [through] in [the] clutch for us."
With half of the season left to go and numerous difficult games against teams like St. Stephen's & St. Agnes and Potomac, Flint Hill has a lot of work to do. However, Boppudi is not worried.
"I feel like we could do really well this year. We have such a deep team this year and our chemistry is unreal. We could go really far," he said.
Girls and boys varsity track are on a roll. Their most recent success was at the Lake Braddock Invitational. Junior and two mile and one mile runner John Moxley recalls his experience on the team.
"It was very intense because at that meet we were competing against public schools instead of the normal MAC and ISL competition," he said. "There is a much bigger pool of people there, and it is a lot more competitive. Almost everyone had a personal record. We actually broke three school records at that meet."
Breaking school records is enjoyable, but they say that much training is still needed.
"To keep up our stamina and times, we are going to have to really practice," Moxley states. "We have already had one week that coach calls 'Hell Week.' We may have another one of those in preparation for MAC and States."
Having most recently set the Flint Hill School record for the two mile run with a time of 9:47, Moxley hopes to continue his progress and motivate the team to success. Though they will face numerous difficult teams along their journey including the Gonzaga College High School, the most difficult team they will face on their road to a MAC and state title, the varsity track team is up to the challenge.
The Flint Hill's boys Varsity Lacrosse team is 10-3 overall and 3-0 in the league. After starting off the season 3-3, the team clicked and is now on a seven game winning streak. With all the momentum on their side after recently winning their most intense game of the season against archrival Potomac on April 22, the team is capable of anything.
Sophomore and midfielder Connor Bath recalled memories from the game. "We went up by a large amount in the second half, but throughout the fourth quarter, our lead started to dwindle," he said. "But by the end, we still pulled out a one-goal win in front of the home crowd. It was really electric and the fans were great. We haven't beaten Potomac in three years now so it was really great to get some revenge."
Currently ranked number one overall in the MAC, the boys lacrosse team has no intention to let this lead slip. In fact, this motivates them even more to work harder to take home the MAC banner with Flint Hill's name on it.
Bound to see Potomac again during the team's journey to a MAC title, Flint Hill's intensity every practice and game until they meet them again will only increase.
"They beat us last year in the MAC championships by a couple of goals," said Bath. "[But this year], they [Potomac] don't have a chance."
With expectations high, the second half of the Spring sports season is going to be intense, interesting, and fun.