Fall Sports Mid-Season Report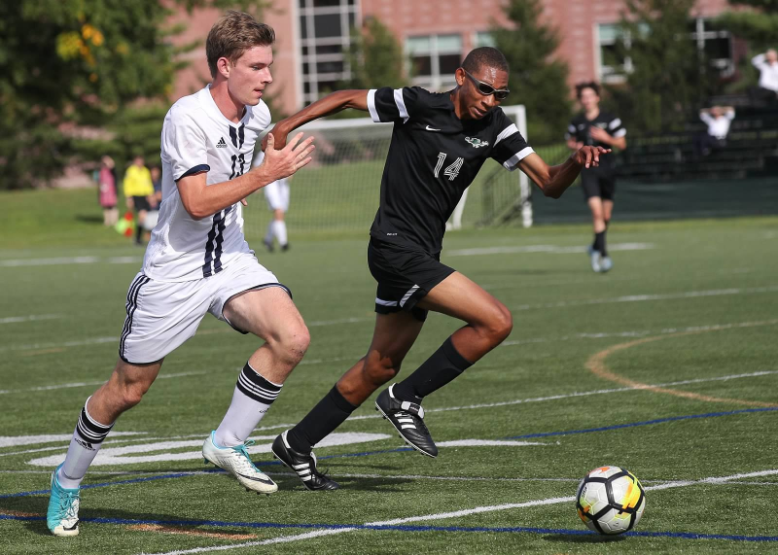 By Nadia Talaksi and Shiv Lamba
September 28, 2017
Although it feels like it has just begun, the fall sports season is almost halfway done. This is the time of the season players begin to have chemistry with each other, and teams hit their peaks. That being said, this is the time of the year other teams can collapse and take their foot off the pedal because they cannot keep up with the progression of competitor schools' teams. With almost all of Flint Hill's sports teams maintaining winning records, the question is not whether Flint Hill athletics can keep up with the pack; rather, the question is how Flint Hill athletics will lead it.
The varsity football team is perfect thus far with a 3-0 record. They recently came off their most intense game of the season against Collegiate. Having lost to Collegiate the last couple of years, sophomore wide receiver and outside linebacker Brian Scherer said, "We really wanted the win."
The Huskies came out on top 41-28. There is a positive vibe and winning attitude amongst the varsity football players.
When asked about any big upcoming games left in the season, Scherer said, "Every game is important, and our next one is this weekend against St. Albans."
Flint Hill's football program is a contender for winning the MAC and State Championships. However, this is a difficult task that will require tremendous commitment and hard work.
Scherer stated, "We look forward to practicing hard and executing in games."
Varsity football is not the only Flint Hill athletic team to be undefeated thus far. The varsity volleyball program is currently 15-0. Having walked off the volleyball court this past weekend as champions of the Flint Hill Invitational Tournament, the team is oozing with confidence going into the rest of the season.
Though the volleyball team seems indestructible, it has numerous difficult matches throughout the rest of the season.
When asked about any big tournaments/games left in the season, junior defensive specialist Tristen Isaac said, "Next weekend we go to Fairleigh Dickinson University in New Jersey for a tournament, we play Middleburg again on October 5th at Middleburg, our Homecoming game against Westfield, and Paul VI on October 17th at PVI."
Difficult matches do not faze the determination and confidence of Flint Hill's varsity volleyball athletes.
Isaac said, "We have a very good shot at winning both the ISL and States…we're going to continue to work hard at practice every day and every point in any match."
Girls varsity tennis has a 5-2 record thus far. They have a 2-0 record in league matches and 3-2 record in non-league matches.
Their most intense match of the season thus far was against Potomac. Junior Sara Khan described the match.
"Everyone had finished playing except for the #3 doubles team," said Khan. "Their individual match was tied at 10-10, and the whole match between our schools was tied at 3-3. We all stood really close to the fence to cheer them on in their tiebreak, which they unfortunately lost. It was intense because I don't think, since I started playing on the team, that we've ever been close with Potomac. This year, every player on our team is a strong contributor to the lineup regardless of position, so we knew coming out that each match was going to be exciting to play."
Though they lost this match, this event brought them closer as a team and helped them realize their true potential. The team has big matches ahead of them: Bullis on October 19 and the state tournament beginning on November 7.
Khan said, "Bullis has always been a strong team down their lineup, so it's always exciting to play them, especially since a lot of our players, including myself, train under their head coach outside of school."
To beat Bullis and win the state tournament, the varsity tennis team must work extremely hard. Khan and the team look forward to the challenge.
"We look forward to learning from our losses and practicing harder every day," said Khan. "With a lot of experienced players contributing to our lineup this year, we already have an advantage. I think that if we learn how to fight for every point and stay mentally tough in all of our matches regardless of how good our opponents may be, we can beat most, if not all, of the teams we face this year."
Girls varsity soccer is currently 2-2-2. For the first time in Flint Hill history, the girls varsity soccer team beat Bishop Denis J. O'Connell High School. Senior sweeper Natalie Johnson said this was the most fun and intense moment of the season thus far.
"We can win the ISL as long as we take care of the games we have left," said Johnson.
This is a big task to take on. "Most of the games we [girls varsity soccer] have left in the season are mostly all league games. Potomac, Bullis, and National Cathedral School will be three very intense games," said Johnson.
When asked how to make this happen, Johnson calmly replied, "We are just going to focus on what we can control."
This composure demonstrates the confidence Johnson has in her team. Given that this is Johnson's last Flint Hill Soccer season, Johnson was enthusiastic, exclaiming, "I really hope to make the most of the season!"
With this attitude, there is no doubt the girls varsity soccer team can end the season with a bang.
The girls varsity field hockey team is currently 1-4.  
According to junior Natalie Plaut, junior Nadine Ahmed, and senior Phoebe Chess, their most intense game so far was their opening game on the turf versus Holton Arms.  The game was tied at 0-0 until the very last second in double overtime when a penalty was called, and Holton Arms scored after the clock ran out.  
Senior Phoebe Chess said the most fun moment as a team was scoring their first goal against O'Connell.  
According to junior Natalie Plaut, the most fun moments on the team are always "when everyone is suffering together during preseason from all the running but doing it together and joking and trying to make it fun."  
Varsity field hockey has some big games left in the season: the homecoming game on October 14 and the Potomac games on October 24. Regarding the team's chances on winning the ISL, Junior Nadine Ahmed stated, "I hope we can get to that point, and if we work hard enough, I believe we can."
Phoebe Chess has been part of the field hockey program since freshman year and said, "it means so much to see how far the team has come since three years ago."  
Boys varsity soccer has a rolling record of 4-1-1.
The team is itching for another MAC championship title, led by returning seniors Alex Shahmirzadi, Tate Rusby-Wood, Tye Williams, Peter Tojsl, Charlie Breen, Cameron Tefft and Chris Burns.  
When asked about the team's most intense game of the season thus far, senior Tate Rusby-Wood said, "Our most intense game has been our second game of the season at Potomac. The score was 5-4 (we won, of course). We started off pretty early in the game down 1-0, then before half time it was 1-1, then we went on a scoring streak to lead 5-1. Crazy, right? Yeah. Next thing you know, Potomac breaks us down scoring 3 more with ten minutes left. Luckily, we held it together for the last 4 minutes to come out with a win on a rainy, wet day!"  
The team is beaming with optimism, hopeful they will qualify for States and defend their title as MAC champions.  
Junior Alan Rizkalla said, "Our team is definitely a big contender for winning the MAC and states. We have won the MAC championship for 4 years in a row, and we will for sure win it again this year."  
Rusby-Wood explained how his last season on the team means a lot to him and the big impact Coach Chris Brown has made on him.
"We [Rusby-Wood and Shahmirzadi] have both been grinding since freshman year, getting play time, scoring and winning the MAC," said Rusby-Wood. "We have put 3 numbers up in the gym and we hope for the fourth before we leave. With that being said, how do we leave the younger guys after we're gone? I want to leave the team having helped them become more successful than me and [Shahmirzadi] ever were. I think the success has [come] from us buying into the system Coach Brown puts out for us. And, as long as we can help the younger guys keep learning, and me and Shamo [Shahmirzadi] keep learning from Brownie [Brown] we'll be great. I want these guys to know that they are more stronger physically and mentally then they give themselves credit for."
Shahmirzadi reflected upon his time playing as a freshman on varsity as well.
"As a senior, this season means everything to me. I remember being a freshman and making the journey to State finals for the first time in school history. It was one of my top moments, and I want to recreate a moment like that so that the other kids on the team can feel what I felt that year. Also, I have loved every second of playing for Flint Hill and want to end my career here on a high note!"  
With this energy, boys soccer will be a force to be reckoned throughout the rest of the season.
This past Saturday, weather in Northern Virginia was forecast to be in the mid-sixties range. However, varsity cross country experienced "no shade on the course, and it was 88 degrees – not an ideal combination," according to sophomore Barrett Harrington.  
After a long, hot day at Kenilworth Park, senior John Moxley broke a Flint Hill school record with a time of 16:04 in the 5000 meters.  
Craig Davis, Upper School Cross Country Coach, stated, "The Huskies did a nice job ignoring the conditions and concentrating on the the task at hand.  Sophomore Calvin Lucido got things rolling by winning the 10th Grade Varsity B race and then became our media star of the day by being interviewed.  Also, bringing home hardware for Flint Hill were Sebastian Aguilar (8th) and Charles Stuart (11th) in the 11th/12th Grade Varsity B race, Barrett Harrington (10th) in the 10th grade Varsity A race, and John Moxley, who placed 7th in the 12th Grade Varsity A race.  John's time of 16:04 for 5000 meters was the fastest ever by a Flint Hill runner and was the 7th fastest time out of about 2000 runners at the meet.  Well done, Huskies!"
Varsity golf is currently undefeated with a 5-0 record. In a match against Potomac, Maret, and Sidwell, they left with a win.  According to junior Zain Zahir, the "most fun moment of the season thus far has been the ride back from beating Maret, Potomac and Sidwell."
The team is looking forward to sustaining their undefeated record and bringing home the MAC championship banner once again. Zahir is looking forward to improving his personal game and helping each other and working as a team on the course.  The team is surely a big contender for winning the MAC again.