Husky athletes demonstrate their talents on Homecoming Day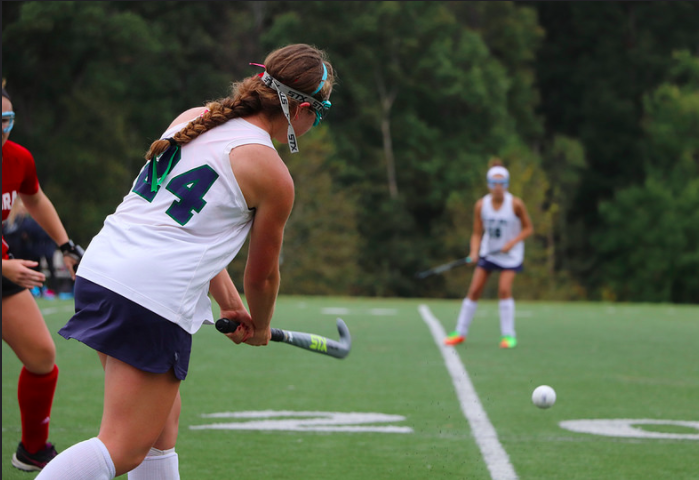 By Shiv Lamba and Noah Ashenafi
November 2, 2017
Homecoming is by far one of the biggest school events each year. It is filled with fun activities including Spirit Week, pictures, dancing, and parties. However, without Flint Hill's Homecoming games, these activities would feel incomplete. Homecoming games give Flint Hill athletes the opportunity to showcase their true abilities to stands full of fans. The athletes play their hearts out hoping to spread a good vibe to start off Homecoming Saturday.
Girls varsity field hockey represented Flint Hill well this Homecoming. They defeated The Madeira School 2-0. Varsity girls field hockey now has an impressive 4-0 non-league record. Prior to the game, junior defender Nadine Ahmed said, "I am very confident that we can win this game." The stakes were high.  Ahmed stated, "Madeira is a part of ISL so beating them would put us a step closer to having a chance of winning the ISL Tournament." Having lost the last couple games prior to the Homecoming game, "It [winning this game] will give us the confidence we need to keep pushing through the rest of the season strong and as winners," said Ahmed. Now with the momentum, Flint Hill varsity field hockey hopes to end the season with a bang.
Boys varsity soccer easily defeated King Abdullah Academy on Homecoming Day by an impressive score of 6-0. Prior to the game, Senior midfielder and captain Alex Shahmirzadi confidently stated, "I think we will win this game." Shahmirzadi went on to say, "This is a big game for our state ranking so a win is important," and "winning this game will build momentum and confidence for ourselves going forward." When asked what this the last homecoming game of Shahmirzadi's Flint Hill career means to him, he stated, "This homecoming game means a lot to me because it is a chance to show our fans what the team is like and what we can do on the field." This is by no means the end of Shahmirzadi's soccer career, as he has committed to play soccer at Amherst College next fall.
To no one's surprise, varsity volleyball defeated Westfield High School in fashion this Homecoming. Before Homecoming, they were undefeated with an impressive 23-0 record. On Homecoming, varsity volleyball defeated Westfield High School 3-0, not giving up a single set. Although the varsity volleyball team showed dominance throughout the match, Junior defensive specialist Tristan Isaac insisted that Westfield's team was still very talented. "They've always been a very challenging school to play. We were at a tournament with them early in the season, and while we weren't in the pool, we both went undefeated," she said.
Nevertheless, varsity volleyball remains undefeated two weeks after Homecoming with a 28-0 record despite the difficult teams they have faced.
The varsity football team gave an absolutely dominating performance on Homecoming, defeating Bishop Ireton 42-0. Prior to the game, Junior running back Jordan Houston said, "Bishop Ireton is a well coached team that plays very aggressive[ly]." Despite Ireton's low ranking, Houston added, "Every game is a big game for us. In order to end up as the number 1 seed in the VISAA, we have to win every game."
Sophomore inside linebacker and fullback Jaylin Hertz believes Homecoming is about more than just winning.
"It means putting on a show for the school and making everyone know how talented you are and what you can do," said Hertz.
Just like the varsity volleyball team, football is also sporting an undefeated record. They are 8-0 and are a top 20 team out of all public and private school teams in the state of Virginia. They are also ranked #1 in the Virginia Independent Schools Athletic Association (VISAA).
The girls varsity soccer team defeated Woodrow Wilson High School 2-0 with goals from forward Rachel Foster and defender Ashley Jaeger.
Before the game, defensive center midfielder Lauren Tanner said, "Although this game doesn't count for our conference, we have to play every game equally as hard so we can increase our state rank." Tanner also added that Wilson plays differently compared to the other teams they have played. She said, "the players on Wilson are very strong and fast, so we have to be prepared to run and stop the breaks. Especially when they cross the ball, we have to get back on defense and continue to get steals until they start to wear down." Two weeks after homecoming, girls varsity soccer is holding on to an impressive 7-1-1 non-league record and is hungry for another ISL title. The team's win over Wilson gives them the momentum to end the season on a good note.
This year's homecoming games brought a tremendous amount of excitement to Flint Hill. Families, faculties, and students came to support our athletic teams, and the atmosphere was electric. On Homecoming Day, all five of our participating sports teams – football, field hockey, volleyball, boys soccer, and girls soccer – won their games by commanding margins. The Huskies kept the fans engaged by putting on impressive performances with lots of scoring.
With our fall sports teams homecoming success, the Huskies can surely expect exciting postseason games to end the fall athletic season.