Climbing Team reaches for success
Hang on for a minute...we're trying to find some more stories you might like.
Last year, Flint Hill formed its first ever winter climbing team. The team is coached by Lynda Hoag, IT Support & Helpdesk Associate and Head Outdoor Sports Coach, Sonya Atkinson, Upper School Learning Specialist, and Samantha Brickman, Upper School History and Social Sciences Teacher. The program is thriving and has potential to expand tremendously in the near future.
"People do climbing because it's an alternative to other [winter] sports," said junior Nixon Kramer.
"We've got a lot more people doing it this year. It's really gotten big." said junior Sameer Bahethi. "The sport is really starting to gain popularity, and I think we've got some good people this year."
Rock climbing has grown in popularity significantly over the last several years, with many schools in the area forming climbing teams of their own. Flint Hill's climbing team is part of the Washington Area Interscholastic Climbing League (WAICL), and it competes against seven other schools in the area.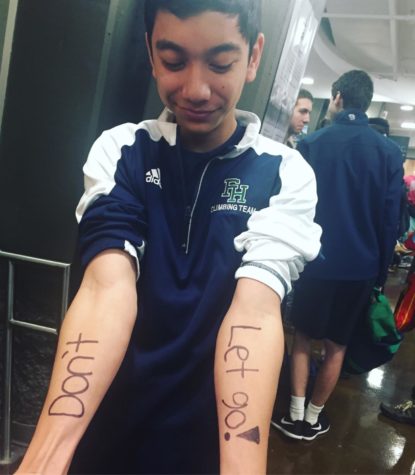 "There are ten other schools in our area that compete in the climbing league, so we began looking into having FHS compete as a varsity sport.  Climbing is a sport that is growing exponentially among young people. There are thousands of students in high schools across the USA that have teams competing." said Coach Hoag.  
Flint Hill specializes in two types of rock climbing terrains: bouldering and top rope climbing. Bouldering is done on a terrain made of large boulders normally climbed side to side without the use of ropes or harnesses. Top rope climbing requires harnesses, ropes, and belayers for climbers to practice safely. Both terrains are timed in competitive environments and require immense physical strength and strategies.
Last year, the team competed against climbing teams from other schools in the area. The boys' team finished in seventh place, and the girls finished in fifth place. The team is hoping to improve this year, with many of the members having high hopes for the upcoming season.
"I think varsity will do pretty well," said junior Jacob Trent. Many members of the team share Trent's aspirations.
"Our roster is really well-stacked this year, so we look forward to seeing FHS winning comps and moving up the leaderboards this year," said Coach Hoag.
Their first competition is Tuesday, December 5, and the team is excited and ready for the upcoming season.